Firefighters rescue man trapped in submerged car
The man drove through a guardrail and into the river 40 feet below; he suffered serious injuries but is expected to survive
---
NORWALK, Conn. — Firefighters rescued a man a river after he crashed his vehicle through a guardrail and plummeted over a 40-foot retaining wall.
TheHour.com reported firefighters and police officers responded to the call at 1:24 a.m. According to Norwalk Fire Deputy Stephen Shay, the 35-year-old man was driving at a high speed when he drove his vehicle through the guardrail into the middle of the river. The car landed upside down 40 feet below the roadway.
"The car was partially submerged with the driver trapped inside," Deputy Shay said. "Firefighters and police were able to get to the driver and bring him out."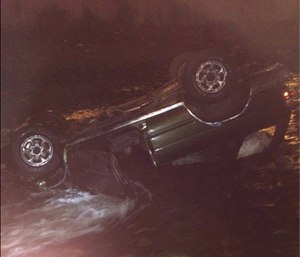 The victim was conscious when he was extricated from the vehicle and placed into a rescue basket. He was then hoisted up a wall and given treatment before being transported to a hospital with serious injuries.
Police said the man is expected to survive.
"It's a credit to the quick response of officers in climbing down there and pulling him out so that hypothermia didn't become an issue," said Norwalk Police Sgt. David Orr.
One firefighter sustained cuts to both hands and was treated at the hospital and later released.
The cause of the accident is still under investigation.