NY firefighters save man from submerged vehicle
Firefighters and police broke the back passenger window of the car and cut the driver's seat belt before pulling the man free
---
By Ken Sturtz
Syracuse Media Group
CICERO, N.Y. — New Year's Day was not uneventful for a pair of Onondaga County police officers and a firefighter.
On Sunday morning Cicero police, the Bridgeport Fire Department and NAVAC Ambulance were called to Route 31 in Bridgeport for a report of a car that crashed and overturned.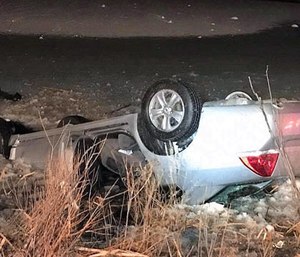 Sgt. James Snell and Officer Sean Wallace arrived and saw that the car was on its roof and submerged in water, police said. Snell, Wallace and a third man, firefighter Kyle Sager, jumped into the water, which was waist-deep.
They broke the back passenger window of the car, police said, and cut the driver's seat belt before pulling him free.
The driver was taken to the hospital and is expected to recover, police said.
Copyright 2017 Syracuse Media Group