IAFC: 12 Ukrainian firefighters killed in the line of duty
The firefighters were reportedly killed while engaged in fire and rescue operations during attacks from Russian forces
---
By FireRescue1 staff
CHANTILLY, Va. — Twelve State Emergency Service of Ukraine firefighters have been killed in the line of duty, according to the International Association of Fire Chiefs (IAFC), which has been in touch with the Polish State Fire Service. The deaths reportedly occurred during the attacks by Russian forces during fire and rescue operations by Ukrainian fire crews.
IAFC President Ken Stuebing shared with FireRescue1 that he is deeply saddened to learn of the tragic loss of firefighter lives in Ukraine: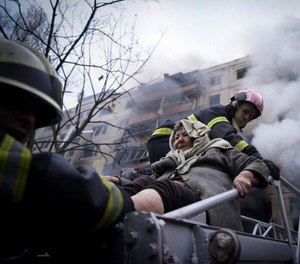 These heroic public servants, killed in the line of duty while continuing fire and rescue operations under the hostilities of war, have demonstrated true selfless courage. The safety of the State Emergency Service of Ukraine and their firefighters remain in the thoughts of the IAFC membership as we wish for peace in Ukraine."
The IAFC is working directly with the Polish State Fire Service leadership and the CTIF (International Technical Committee for the Prevention and Extinction of Fire) to facilitate assistance and monitor the conditions firefighters are facing in Ukraine. CTIF serves as the IAFC's European partner. It is headquartered in Slovenia and includes 48 member countries and 46 associate members.
In an official statement released on March 3, CTIF said it condemns aggressive military action against all people and, in response to the conflict, has suspended all cooperation and participation with members of the Russian Federation and Belarus. It further stated:
[CTIF] calls and requests all its Russian and Belarusian members to use whatever professional influence they may have with their Governments to cease military operations in Ukraine and to remind them of Article 48 of the Additional Protocol to the Geneva Convention 1949*; "to respect and protect civilians and first responders."

CTIF has deep concern for all firefighters engaged in civil protection during this conflict. The Additional Protocol of the Geneva Convention in Articles 61-67 further identifies and protects those firefighting and providing medical care and we call on all armed combatants to respect the convention. ... CTIF recommends members do not visit or participate in any meetings online or in person with members of the Russian Federation and Belarus until further notice."
Other fire service leaders have offered their support, with two American fire chiefs connected with Ukrainian sister cities speaking about their admiration for Ukrainian crews that have remained in the war zone.
Deputy Chief Billy Goldfeder shared the following video of Ukrainian fire crews via The Secret List:
---

Read next
Into the war zone: What firefighters, medics and EMTs should consider before going to Ukraine
From freelancing to insurance, there are several factors that should impact go/no-go deployment decisions
---