Iranian fire chief praises fallen firefighters for sacrifice
Following the tragedy, officials urged the government to consider importing modern firefighting equipment
---
By FireRescue1 Staff
TEHRAN, Iran — In the wake of the high-rise collapse that killed 16 firefighters Jan. 19, Iranian fire officials praised crews for their sacrifice. 
Memorial services were held Friday for the firefighters killed in the collapse; firefighters were attempting to battle the fire and evacuate residents when the building collapsed.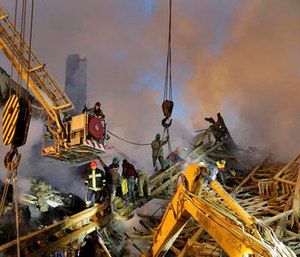 "If it wasn't for the sacrifice of the firemen, maybe the building would have collapsed two hours earlier and hundreds would be buried," Tehran fire commander Amir Mahdiani said. 
Following the tragedy, Mahdiani urged the government to consider importing modern firefighting equipment, reported AFP. 
As of Friday, officials have recovered the bodies of 15 firefighters; one firefighter died of his injuries after being transported to the hospital. Ten civilians were killed in the collapse and the bodies of six others have yet to be found.
Officials said the firefighters will be buried as martyrs.