LODD: Ore. smokejumper dies of injuries after battling Ala. wildfire
Ray Rubio, 52, suffered serious injuries after he fell over a concrete railing and onto a parking garage
---
By FireRescue1 Staff
BIRMINGHAM, Ala. — A veteran Oregon smokejumper who sustained serious injuries while battling wildfires in Alabama died Monday. 
Ray Rubio, 52, fell over a concrete railing and onto a parking garage one story below Nov. 23, reported AL.com. Rubio had just finished battling wildfires and was preparing to return to Oregon. He suffered a serious head injury and broken knee, and was transported to the hospital. Rubio had been in the intensive care unit.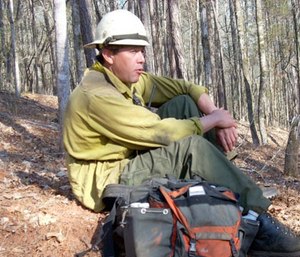 A GoFundMe page raised nearly $34,000 to help pay for his medical expenses. 
"Smokejumpers are a tight community, spending long hours together on assignments, for weeks at a time," the GoFundMe page wrote. "He [Ray] is the person who shows up every day; ready to go anywhere he is needed, and takes on the most challenging tasks."
Rubio was a 25-year veteran and worked as a smokejumper for the Redmond Air Center Deschutes National Forest.