Maine community commemorates 1st anniversary of blast that killed fire captain
Multiple memorial events were held on Wednesday, one year after the Sept. 16, 2019, explosion that killed Farmington Fire Capt. Michael Bell and injured six other firefighters
---
By Laura French
FARMINGTON, Maine — Several memorial events were held in Maine on Wednesday to commemorate the first anniversary of an explosion that killed a fire captain and injured six other firefighters. 
Farmington Fire Capt. Michael Bell, 68, was killed in the propane explosion while responding to a report of a gas smell at the LEAP Inc. building on Sept. 16, 2019. The blast also injured Bell's brother, Fire Chief Terry Bell, five other firefighters, an EMS provider and a LEAP maintenance worker.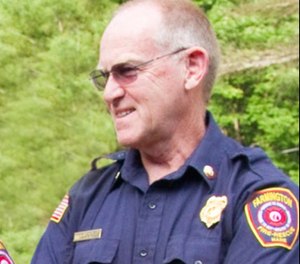 Capt. Bell was a 30-year veteran of the Farmington Fire Department and had previously served as a volunteer with the Mexico Fire Department, according to his obituary.
He is survived by his wife of 48 years Diana, three daughters, a sister, three brothers and several grandchildren. 
A private ceremony was held with Bell's family at the Farmington fire station Wednesday morning, followed by a procession from the station to the cemetery where Bell was laid to rest, according to News Center Maine. 
A memorial display was set up at the blast site, which included a ladder truck and an American flag, a memorial wreath and Bell's firefighter gear. 
Across from the site, Maine Gov. Janet Mills, fire department and city officials, and a LEAP representative held a press conference recognizing the first anniversary of the tragedy and honoring Bell's memory. Mills presented Chief Terry Bell with flowers and ordered flags in the state to be flown at half staff in honor of the blast victims. 
"One year ago, I stood amid the wreckage of an explosion which had claimed the life of Captain Michael Bell, injured several others like Larry Lord, devastated my hometown of Farmington, and shook the entire State of Maine," Mills said in a statement. "While that September day was difficult for us all, it also once again revealed the character of Maine people, whose outpouring of support sustained our small community through its most challenging moments."
.@GovJanetMills gives flowers to Chief Terry Bell, the brother of Capt. Michael Bell who was killed in the blast. pic.twitter.com/fhAigAgqFV

— Zach Blanchard (@ZachBlanchard) September 16, 2020
Dept. Chief S. Clyde Ross, Capt. Scott Baxter, Capt. Timothy Hardy, Firefighter Ted Baxter and Firefighter Joseph Hastings were also injured in the explosion. Baxter, the last of the injured firefighters to be released from the hospital, returned home on Oct. 29, 2019, according to the fire department. 
Larry Lord, a LEAP maintenance worker who evacuated the building after smelling gas, was severely injured and returned home in April of this year after five months in the hospital and two months in a rehabilitation facility, according to the Bangor Daily News.