Calif. officials on Ghost Ship fire probe: 'It is horrifying'
Firefighters referred 879 properties for fire code issues, but 696 of the flagged properties were never inspected
---
By Matthias Gaffni and David Debolt
Contra Costa Times 
OAKLAND, Calif. — Officials in this fire-ravaged city reacted with alarm Monday over a report by this news organization that almost 80 percent of firefighter referrals to inspect dangerous conditions went ignored over the last six years.
"It is horrifying," Councilwoman Rebecca Kaplan said of the investigation's findings. "In fact, one of the issues (the story) identified is how it gets decided who gets inspected."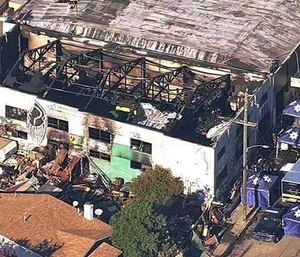 In early 2017, a few months after the Ghost Ship warehouse fire killed 36 people, Kaplan proposed reprioritizing which businesses get inspected. Kaplan said she had heard from residents who said their businesses received multiple inspections, while others were never inspected.
"I've been getting complaints from random small business owners that say they get fire inspections over and over again for no reason and charged a fee," Kaplan said Monday.
Councilman Noel Gallo, who represents a district that includes the Ghost Ship warehouse, said the city can't wait until more fire inspectors are hired. He said the city should hire private inspectors to help the fire department until it can get up to speed, similar to when the California Highway Patrol and the Alameda County Sheriff's Office were brought in to help Oakland police patrol city streets. Gallo met with City Administrator Sabrina Landreth on Monday morning.
"I don't want to sit here idle knowing we have all these properties and facilities challenged when it comes to public safety," Gallo said.
The Bay Area News Group analysis of city records from 2011 until early this year revealed that more than 200 apartment buildings, housing thousands of residents, were referred to the Fire Prevention Bureau for inspection, but those inspections did not happen.
In all, firefighters referred 879 properties for fire code issues, a number that includes the apartment buildings, plus commercial buildings and several schools. But 696 (79 percent) of the flagged properties were never inspected by the bureau, a cross-check of the data obtained through multiple public records requests shows. Only 183 (21 percent) of the referred properties had subsequent inspections, and only a handful of them were conducted within the first month. It often took months or years before the visits occurred.
Fire experts called such "referrals" a top priority for inspections.
The city blamed the inspection lapse on a problematic software system and lack of staffing. The city has proposed beefing up its inspection staff and changing to a new computer program.
Former Oakland city inspector Mark Grissom, who is now a wildlands firefighter for the federal government, told this news organization that the Fire Prevention Bureau would prioritize modern buildings with superior fire-prevention systems to inspect because the agency knew it would get paid for its inspection services. The city charges for fire inspections, and Grissom said that at older buildings in poorer neighborhoods, inspectors knew that if they conducted an inspection, the payment might not happen.
Kaplan said she proposed reducing inspections for low-risk office spaces and increasing inspections for high-risk buildings, such as unpermitted ones like the Ghost Ship warehouse. The City Administrator's Office rejected it, she said, because the Mayor's Office was working on its own proposal.
Representatives for Mayor Libby Schaaf and Landreth did not respond to calls for comment Monday.
"This change needs to happen immediately. They need to change the inspection prioritization, and it needs to actually be managed," said Kaplan, who as the at-large council member represents all of Oakland. "It's not just the last fire we need to fight, it's the next fire."
Copyright 2017 Contra Costa Times