FDNY fire commissioner announces increased fire deaths in 2017
In December alone, 26 fire deaths occurred — the highest number of any month in decades
---
By FireRescue1 Staff
NEW YORK — The FDNY fire commissioner announced that the amount of fire deaths in 2017 increased from 2016's record low.
Fire Commissioner Daniel Nigro said New York City saw 73 fire deaths in 2017, 25 more than the 48 fire deaths in 2016, the fewest deaths in 100 years of accurate recording.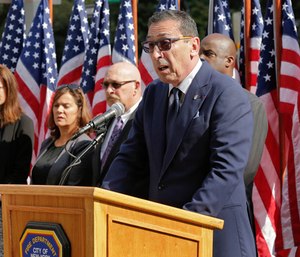 Twenty-six deaths occurred in December alone, marking the highest amount of deaths in one month in decades.
Commissioner Nigro said the highest causes of fatal fires were open flames, electrical and smoking, and there were no present working fire alarms in 53 percent of the fires.
"While we have worked very hard in recent years to educate millions of New Yorkers about fire safety, several recent tragedies demonstrate our work is far from over and we must do all we can to reach everyone with vital, lifesaving knowledge about how to prevent fires and what to do if you're in a fire situation," Commissioner Nigro said. "We mourn the loss of every life lost due to fire, and we commit to doing even more to make 2018 a safer year for everyone in our city."
Commissioner Nigro also announced that EMS response times improved, decreasing by 7 seconds since 2016 to 6:44.