Fire investigation into blaze that killed Buffalo Firefighter Jason Arno nears completion
As the ATF investigates, a fire research lab in Maryland is working to create a computer model showing how the fatal fire spread and grew
---
By Sandra Tan
The Buffalo News, N.Y.
BUFFALO, N.Y. — Investigators of the fatal fire that killed Buffalo firefighter Jason Arno say it may not look like it from the outside, but a lot of work has been done to determine what caused the blaze.
And they may be able to say as soon as next week what that cause was.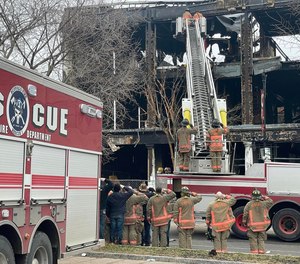 Careful excavation of the basement and first floors of the structure, built around 1900, has been ongoing, and more than 100 interviews have been conducted in the search for what started the fire, said Walter Shaw, branch chief of the U.S. Department of Justice Bureau of Alcohol, Tobacco, Firearms and Explosives.
"We're continuing to do neighborhood canvasses to collect any video that may show events leading up to fire and after the fire so that we can create an accurate timeline of the fire event," Shaw said, estimating that the investigation should be finished by next week.
The investigation of the March 1 fire is more than half over, and a fire research lab in Maryland is working on creating a computer model showing how the fire spread and grew. Because heavy wood beams and joists that supported the building floors were damaged by the fire, special care was taken to shore up the lower-level floors so that the building was safe enough for fire officials to enter, he said.
Investigators have been looking into the possibility that renovation work being done on the exterior of the Theatre District building may have sparked the fire. Workers were using blow torches on masonry and bricks at 745 Main St. before the fire was reported Wednesday morning, Fire Chief William Renaldo previously said. The building, which housed DC Theatricks, a costume maker, was purchased late last year by developer and former Rep. Chris Jacobs.
The blaze killed Arno, 37. The official autopsy results have not yet been released by the Medical Examiner's Office, but Renaldo said Tuesday that levels of carbon dioxide were found in Arno's body, which indicates a lack of oxygen.
"He was working at one of our three busiest engine companies in the Buffalo Fire Department," Renaldo said. "Engine 2 goes on well in excess of 3,000 runs a year. It's a lot of fire calls, motor vehicle accidents, incidents of all types, EMS. So he chose, and made a conscious decision, to work at one of the busiest fire companies in the Buffalo Fire Department, and that says a lot about him as a firefighter and as a person."
More than 1,000 people, mostly firefighters, are coming to town for Arno's funeral on Friday, Mayor Byron Brown said.
Starting Wednesday, investigators will be bringing in heavy equipment to demolish a wall at the rear of the building to gain access to areas currently covered by debris.
"It is a slow, methodical, painstaking process," Renaldo said of the investigation.
Aside from looking into active renovation work, fire officials said investigators are also looking at everything from building utilities to costume-making equipment and have sent an accelerant detection dog through the building as part of routine procedure. Fire causes are still being eliminated, so the investigation is ongoing.
In the meantime, road closures that began last week remain in effect in and around the site of the fire. Main and Washington streets between Tupper and Goodell streets remain closed until further notice, according to city officials.
___
(c)2023 The Buffalo News (Buffalo, N.Y.)
Visit The Buffalo News (Buffalo, N.Y.) at www.buffalonews.com
Distributed by Tribune Content Agency, LLC.
McClatchy-Tribune News Service