Honolulu mayor pushing bill requiring fire sprinklers
Currently, buildings constructed before 1975 can go without sprinkler systems
---
Associated Press
HONOLULU — In the wake of a fire that killed three people, Honolulu Mayor Kirk Caldwell is planning to push a bill requiring sprinklers in all high-rise buildings regardless of when they were constructed.
Currently buildings on Oahu constructed before 1975 — such as the one that caught fire on Friday — can go without sprinkler systems. The mayor's office estimates about 300 high-rise residential buildings on Oahu don't have sprinklers. The bill would require all buildings taller than 75 feet to install sprinkler systems.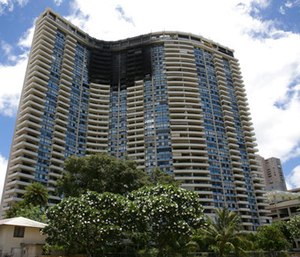 Similar efforts on the city and state level have failed in the past because of cost concerns.
According to the International Code Council, several cities require sprinklers in existing high-rises regardless of when the buildings were erected including Los Angeles, Houston, San Antonio, San Diego, Chicago and Philadelphia.