Rapid Response: Lack of smoke alarms contributes to multiple fatality structure fire
How firefighters can work with childcare facilities to help underscore fire safety
---
An early-morning fire that rapidly spread through a 24-hour childcare facility in Erie, Pa., resulted in the deaths of five young children may not have been so deadly had the two-story residential structure been equipped with the required number of working smoke alarms.
What happened: The fire was reported to the Erie County 911 Center at approximately 1:15 a.m. Sunday, Aug. 11, 2019. Initial communications from first-arriving fire units reported smoke and fire showing from every first-floor window.
The five children killed ranged in ages from 8 months to 7 years.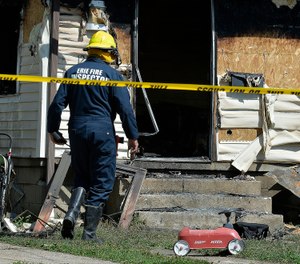 As many as eight people were originally trapped in the burning home, including the woman who operated the childcare facility.
The initial investigation by Erie fire officials found that there was only one smoke alarm in the two-story residential structure, and it was in the attic. Officials have not been able to determine if the smoke alarm was working.
The fire appears to have started in the living room area on the first floor. The fire department's two fire inspectors and three Erie police detectives trained in fire investigations are working to determine the cause of the blaze.
Why it's significant: Safe and affordable childcare is hard to find in the U.S., especially for parents who work evenings/nights or 24-hour shifts. In this incident, the childcare facility was listed in the Erie Regional Chamber and Growth Partnership as "a 24-hour, 7-days a week childcare service including holidays."
The New York State Department of Human Services Office of Child Development and Early Learning listed the daycare as in compliance with requirements following a Dec. 28, 2018, inspection. The facility was licensed to have six children at a time, 24 hours a day, seven days a week.
How many licensed childcare facilities are operating in your community? How many unlicensed facilities are operating out of private residences in your locality?
Top takeaways on fire safety for childcare facilities 
There are several important takeaways from this tragic fire for firefighters to consider as they work in their community.
Fire departments must include the identification of the for-profit childcare facilities in their response area as part of an overall Community Risk Reduction (CRR) program. This must include both certified and non-certified locations. Departments should conduct Internet searches for organizations, like the New York State Department of Human Services Office of Child Development and Early Learning, which can help in locating childcare facilities in your locality. Use social media to help identify childcare facilities and to reach out to parents to learn where people in your community find childcare. Finally, make sure that information is accessible to all sections of your department (e.g., enter it into your computer-aided dispatch system).
Get out and establish a dialogue with the adults at those facilities who are responsible for the children to inform and educate about keeping a fire-safe facility.
The following simple guidelines are from Childcare Aware America, a website with a wealth of information on "all things childcare," which can easily be printed out for use as talking points and then left with the owner/operator:
How Child Care Programs Can Prepare/Prevent Fires
Develop and maintain a fire escape plan. Post the plan in multiple locations within the facility. The NFPA has a complete package of materials in its offering, Keeping Your Community Safe with Home Fire Escape Planning. (Bonus: The materials are available in 19 languages besides English).
Communicate the plan. Make sure staff, parents and children know the plan.
Practice the plan. Conduct a fire drill each month, make it realistic, use the actual fire alarm or smoke alarms in your facility, and keep a record of your drills.
Ensure that you have the proper number of smoke alarms and that they are working. At a minimum, you should have one on each floor. Be sure you test them monthly.
Have the appropriate fire extinguishers and ensure that your fire extinguishers are accessible. Know where they are, check to make sure they have adequate pressure and that their inspection date (if required) has not expired.
Keep all exits clear. Do not block exits with furniture, toys or other clutter.
Furnace rooms and electrical panel rooms are not acceptable places for storage. Keep clutter away from any heating or electrical sources.
Check with your local licensing authority as to their specific requirements regarding fire safety in certified childcare facilities.
Stay engaged. Social media platforms provide tremendous opportunities for your fire department to stay engaged with all the childcare facilities in your community. You want to continue that initial dialogue and information exchange that you started in #1 so that your department can maintain its listing all the identified facilities.
For more information on fire and life safety educational materials, materials to use with social media, and other pertinent fire safety information and materials, visit the U.S. Fire Administration's Outreach materials and educational programs webpages.
Suicide Vertical Poster Final by Ed Praetorian on Scribd
Look out for each other after tragic events
Officials reported that a volunteer firefighter was the father of three of the five children. High-stress incidents like this can have a traumatic impact on firefighters, EMS personnel, and law enforcement officers in any community. It's incumbent upon each member of that team to look out for each other in the hours, days and weeks following such horrific events. Too many members of that team are dying by suicide every day.
The Fire Service Behavioral Health Management Guide was published in 2017 and represents a joint effort between the National Fallen Firefighters Foundation and its Everyone Goes Home initiative that supports Life Safety Initiative #13: Psychological Support.
Get informed and get educated on firefighter behavioral health issues, including the prevention skills, adaptive skills and intervention skills that every firefighter should have – for themselves and their brothers and sisters.
Find more at firefighter behavioral health research and resources, visit the First Responder Center for Excellence.
Need help? In the United States, call 1-800-273-8255 or visit www.suicidepreventionlifeline.org.