Report: Burned London high-rise cladding was cheaper
Attention has focused on a recent renovation project involving cladding installation as people search for answers
---
Associated Press
LONDON — Britain's Guardian newspaper is reporting that cladding used on the high-rise structure that burned this week in west London was made of the cheaper, more flammable material of two types offered by the manufacturer.
The newspaper said Friday that Omnis Exteriors manufactured the aluminum composite material used in the cladding. It quoted director John Cowley as saying that Omnis had supplied Reynobond PE cladding.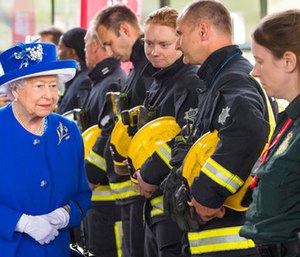 This type of cladding is 2 pounds cheaper ($2.56) per square meter than the alternative Reynobond FR, which stands for "fire resistant".
Cowley was quoted by the Guardian as saying: "We supplied components for a system created by the design and build team on that project."
Attention has focused on a recent renovation project involving cladding installation as people search for answers on the fire that claimed at least 30 lives.
___
12:45 p.m.
Prime Minister Theresa May is speaking with survivors of the high-rise fire in which 30 people are confirmed to have died.
May visited Chelsea and Westminster Hospital, which is treating eight people. Three are in critical condition.
The visit can be seen as a response to the anger of residents from the west London neighborhood because May had visited the scene of the fire without meeting victims. Other members of her Conservative Party urged her to show concern for the dozens of victims and survivors of the blaze.
May will later chair a meeting on how the authorities can help affected communities and victims recover.
___
12:30 p.m.
London police say the number of victims has increased to 30 in the fire that engulfed a high-rise building.
Metropolitan Police Commander Stuart Cundy said Friday that 24 people are being treated in the hospital, including 12 in critical care. The number of victims is expected to grow.
Authorities say they've examined original location of fire and there is no indication it was started deliberately
___
11:05 a.m.
Queen Elizabeth II and Prince William have arrived at a west London site where community groups have gathered supplies for those affected by the tower fire disaster.
The queen is meeting with volunteers Friday.
The monarch has expressed her sympathies to families of victims of the blaze that ripped through the 24-story building, killing at least 17.
___
10:00 a.m.
Relatives of those missing after a high-rise tower blaze in London are searching frantically for their loved ones, as the police commander in charge of the investigation says he hopes the death toll will not rise to three figures.
Firefighters searching the smoldering ruin in west London have recovered six bodies from the 24-story Grenfell Tower, while 11 others have been located but cannot yet be removed from the gutted structure.
Families searching for their loved ones have blanketed the area near the tower with posters searching for answers, and sorrow is quickly turning to anger over whether recent building works were properly done.
Meanwhile, Metropolitan Police commander Stuart Cundy responded to speculation that the number of dead could exceed 100, saying: "From a personal perspective, I really hope it isn't."