Court: Mother of fallen Yarnell hotshot has no right to sue
The judges stated that there was no evidence that acts during the wildfire were done with the direct object of injuring the firefighters
---
By FireRescue1 Staff
PHOENIX — In an unanimous decision, a court ruled the mother of a Yarnell hotshot has no right to sue the state over her son's death. 
Judges stated that Marcia McKee failed to provide evidence that pointed to "willful misconduct" by the state when her son, Grant McKee, and 18 other hotshots were killed while battling the 2013 Yarnell wildfire.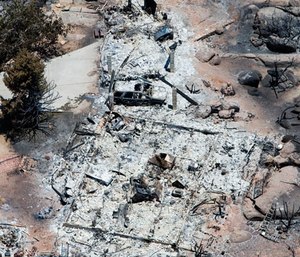 While judges acknowledged McKee's allegations show a "series of negligent and grossly negligent acts," there is no evidence that these acts "were done knowingly and purposefully with the direct object of injuring the firefighters."
While battling the wildfires, the hotshots worked as employees of the state. State employees who are killed on the job only receive benefits under the state's worker's compensation system, and cannot sue over death, reported the Arizona Daily Sun. However, lawsuits on "willful misconduct" are permitted. 
Attorney David Abney said he has evidence of two state employees — a ground supervisor and an air tactical supervisor — going home in the middle of the blaze. 
"There was a lot that happened that you could say was so far over the edge that it would amount to willful and wanton misconduct," Abney said. 
Marshall Krotenberg, a lead OSHA investigator, said the Forestry Division had misplaced priorities. 
"Folks were put in position, overly hazardous positions, to protect property that was unprotectable under the current conditions of the extreme fuel, dryness, the drought and wind conditions," Krotenberg said. "The employer implemented [fire] suppression strategies that prioritized protection of non-defensible structures and pastureland over firefighter safety."
Last year, a dozen families of the hotshots settled with the state Forestry Division and Industrial Commission of Arizona for $50,000 each. Seven other families that did not sue received $10,000 each.