Fire inspection gaps found in 'troubled' Oakland building
The timeline raises similar questions to Ghost Ship: Can the city monitor buildings that do not cooperate with oversight?
---
By Thomas Peele and Erin Baldassari
East Bay Times
OAKLAND, Calif. — A month.
That's how long it took after a city firefighter sent a warning of dangerous conditions inside a San Pablo Avenue apartment house for a fire inspector to get inside the building where four people died in a savage blaze early Monday.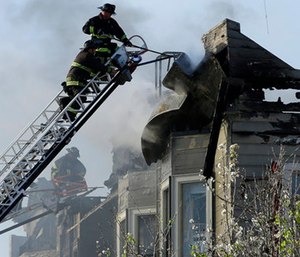 When that inspector finally got behind the locked doors on Friday, he documented 11 severe fire hazards, including extension cords being used instead of wall outlets. He wrote that fire extinguishers, emergency lighting and marked exits must be maintained and provided throughout the building, and smoke detectors in each unit.
Inspector David Davis also demanded immediate service and certification of the fire alarm system and fire sprinkler system, but he didn't order the residential building, where three nonprofits provided homes to the poor, evacuated and closed. Nor did he order the building owner to place a person on "fire watch" to patrol the structure until repairs were made, as state law allows.
Less than 72 hours later, the West Oakland building where more than 80 people, including many children, lived, was an inferno. Some jumped from windows and raced down fire escapes. Others made it outside in bare feet, their belongings left behind. Firefighters rescued 15 people, and four were hospitalized with smoke inhalation, including two children.
A fourth body was found Tuesday, likely that of a man who had been reported missing.
On Tuesday, as she sat near the charred remains holding her granddaughter, ToNiya Scott-Smith, who lived directly behind the building, made a blunt assessment. The city "just took too long," she said. "It's a shame."
'People should not be dying like that. It's like Ghost Ship all over again," said Scott-Smith, referring to 36 people killed in the Dec. 2 fire in a warehouse illegally converted into an artists' collective.
City officials remained mum about the deadly San Pablo Avenue blaze Tuesday. Acting Fire Chief Mark Hoffmann didn't return messages. Fire Marshall Miguel Trujillo declined to answer questions. City Administrator Sabina Landreth, who toured the scene Tuesday morning, declined to be interviewed.
Was a month too long for Inspector Davis to enter the building for an inspection? The timeline raises similar questions to Ghost Ship: Can the city monitor troubled buildings that often do not cooperate with oversight?
At least once between receiving the unnamed firefighter's tip on Feb. 25 and Davis' March 24 visit, inspectors went to 2551 San Pablo Ave. "but were not successful" in getting inside after failing to reach building owner Keith Kim, according to a summary of their actions the city provided.
"You've got to take aggressive action if people are in harm's way," said Butch Browning, president of the National Association of State Fire Marshals and the top fire official in Louisiana.
He said the building could have been shut down immediately or a person placed on fire watch until repairs were made. He also said Kim should have taken immediate action over the weekend to make the building safer.
"It only takes a couple of hours to go to the store and get a bunch of smoke detectors and install them in every sleeping room," he said in a telephone interview. "You can get that done before sundown."
Kim did not return a phone call Tuesday. He told a reporter last week that keeping the building safe was the responsibility of one of his nonprofit tenants, Urojas Community Services, that he said was the master tenant. But several tenants have blamed Kim for the tragedy, noting that he began evicting people from the building and accusing him of sending thugs to intimidate tenants.
The head of Urojas, the Rev. Jasper Lowery, said fire inspectors were in the building in late February but that workers couldn't give them full access to the building where some hallway doors were locked.
He cited confusion over the tenant harassment, and said residents were hesitant to have city officials inside. "They've been on stranger danger with everything that has been going on," he said. "They've been so confused, they didn't know what to do."
Janet Upton, a spokeswoman with the California State Fire Marshal, said Tuesday that state fire code allows inspectors who have a "reasonable cause that unsafe conditions exist" to undertake "every remedy provided by law," including an inspection warrant to get inside a structure.
Because it had more than three dwelling units, the building should have been inspected annually, according to the state fire code. However, Oakland fire inspectors only visited the building in 2010, 2012 and 2015, city records show.
Mark Grissom, a federal firefighter and former Oakland fire employee who served as a vegetation inspector, said that based on Davis' report, the San Pablo Avenue building should have been bumped up to the fire marshal and the building red-tagged.
"The fire extinguisher and the smoke detectors should have been done within 24 hours. That may have helped." Grissom said. "They could have been done right away with minimal costs."
Copyright 2017 East Bay Times
All Rights Reserved