LODD: Ambulance transporting fire chief hits semi
Chief Maywood Gaskins suffered a cardiac arrest following training at the firehouse; the ambulance transporting him crashed en route to a hospital
---
BERKELEY COUNTY, S.C. — A battalion chief died Wednesday morning after suffering a cardiac arrest.
Firefighter Close Calls reported that an ambulance was transporting Batt. Chief Maywood Gaskins, 56, with the Santee Circle (S.C.) Fire Department, after he suffered a cardiac arrest in his home following training at the firehouse.
However, while en route to the hospital the ambulance was involved in a crash with a logging tractor trailer. The trailer was reportedly turning as the ambulance was trying to pass.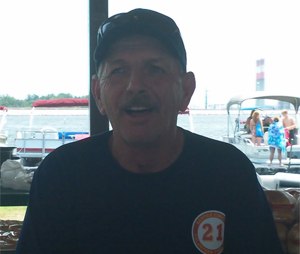 Three people were extricated, treated and taken to the hospital, including Chief Gaskins who was already in the ambulance. He did not survive.
All EMS and fire personnel were released from the hospital with minor injuries.
The crash is still under investigation. A rider in the front seat and firefighter driver reported that they were behind the trailer when its driver slowed and put on his four way flashers, according to the report. Crews said it gave the impression the truck was allowing the ambulance to pass, and as they began to pass it that's when it made a left turn and the rig struck the truck.