3 demoted FDNY chiefs sue to get positions back after dramatic shakeup
The plaintiffs, Assistant Chiefs Joe Jardin, Michael Gala and Fred Schaaf, demand that a total of 11 chiefs get their old jobs back
---
By Thomas Tracy, Elizabeth Keogh
New York Daily News
NEW YORK — Former FDNY assistant chiefs who were demoted by Fire Commissioner Laura Kavanagh have filed a lawsuit demanding they and other chiefs affected by the recent shakeup in the upper ranks be reinstated.
The lawsuit, filed in Brooklyn state court on Monday names Assistant Chiefs Joe Jardin, Michael Gala and Fred Schaaf as plaintiffs. Kavanagh relegated all three to deputy chief earlier this month.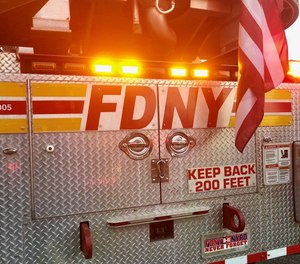 They are suing the Fire Department and Kavanagh, the city's first woman fire commissioner.
She made the demotions after bringing her grievances regarding the three chiefs to John "Jack" Hodgens, the most senior uniformed official in the agency, and Chief of Fire Operations John Esposito, but the men didn't reprimand the trio, sources said.
They were considered "bad apples" sources have told the Daily News.
In the aftermath of the demotions, multiple high-ranking members of the department gave up their own positions in protest, including Hodgens, Esposito and Deputy Assistant Chief Michael Massucci — who is named as the fourth plaintiff in the suit.
The suit demands 11 chiefs total, including the plaintiffs, get their old jobs back.
Massucci also requested in writing to be demoted back down to deputy chief.
The lawsuit claims that without the recently demoted chiefs, the city is lacking in experienced incident commanders — or chiefs who mobilize firefighters into action and supervise blazes — and that when the demotions go into effect next month, there will be no chiefs who have ever served as incident commanders on a five-alarm fire.
The FDNY and city Law Department did not immediately answer requests for comment.
The filing claims Kavanagh has "abused the office of fire commissioner" and "put the public and members of the FDNY at risk."
"Kavanagh's brief tenure as FDNY commissioner has shown what happens when a political operative is put in charge of a public-safety agency as vital as the FDNY," the suit reads.
The plaintiffs are seeking a reversal on "the Commissioner's recent retaliatory decisions."
"These are some of the same firefighters who put their own lives at risk on September 11 and on countless other occasions to uphold their oath to protect New Yorkers from lethal fires," said the chiefs' attorney Jim Walden. "To remove these experienced officials from their essential safety functions puts lives at risk and is simply a gross misjudgment and dereliction of duty by the Commissioner."
©2023 New York Daily News.
Visit nydailynews.com.
Distributed by Tribune Content Agency, LLC.
McClatchy-Tribune News Service