FDNY chief's ex-EMT son, who impersonated cop in robbery, sentenced
Robert Gala was found guilty of multiple crimes committed during his public safety career; his father, Deputy Chief Michael Gala, described the son's addiction
---
By John Annese
New York Daily News
NEW YORK — An ex-EMT who's the son of an embattled FDNY chief caught a break in his federal robbery case Monday, with a judge ruling the roughly 12 months he spent in Brooklyn's notorious federal lockup was punishment enough.
Robert Gala, 30, was hit with federal charges in 2020 after impersonating a cop to rob a drug dealer three years earlier — one of a series of misdeeds during his six-year career with the FDNY that were first reported by the Daily News in August 2018.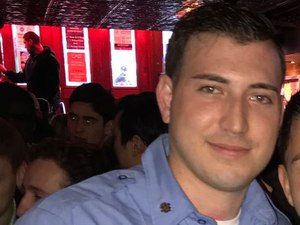 On Monday, Brooklyn Federal Judge William Kuntz sentenced Gala to time served, warning him to steer clear of drugs and crime so he doesn't end up back in the Metropolitan Detention Center.
"As we say in another part of Brooklyn, 'Dude, this is your life, OK?' This is real life. Stay away from the drugs," the judge said. "You talk about the MDC — it's not a country club."
Gala. initially went free on $150,000 — secured by his father, Deputy Chief Michael Gala — after his September 2020 arrest. The ex-EMT consented to being sent to the Sunset Park lockup in April 2022, after 26 separate positive drug tests and flunking out of a residential treatment program.
Kuntz has railed about conditions in the federal lockup before. In 2021, he called the jail an "ongoing disgrace" after it took several days to fix a 60-year-old bank robbery suspect's broken toilet.
Gala briefly buried his face in his hands, visibly relieved, when Kuntz handed down his sentence. Prosecutors were seeking 33 months.
"Go home with your family," the judge said, adding, "Happy Easter."
The jurist went on a frustrated tirade against the federal Bureau of Prisons, saying that after a group of judges sought accountability in the wake of an eight-day blackout at the MDC in the winter of 2019, the agency essentially "looked at us and said, 'You can't make us run this place any differently.'"
Gala apologized for his actions and said his time in the MDC made him realize he had hit rock-bottom.
"Nothing in my past history could prepare me for what I experienced there, the violence, the chaos on a regular basis," he told the judge.
Prior to the sentencing, Michael Gala wrote a letter to Kuntz supporting his wayward son, detailing how his progeny wanted to follow in his footsteps as a firefighter, an ambition cut short by a decadelong addiction to painkillers and heroin.
"He loved the Fire Department so much and wanted to come to work with me as often as possible," the chief wrote. "At the firehouse, he would help the members with routine committee work such as mopping floors, cleaning the fire trucks, cleaning bathrooms and helping to prepare the meals. At the fire scene, he would help the members stretch and take up hose lines."
The elder Gala deferred to the family's lawyer, Jim Walden, when asked for comment outside the courtroom.
"We are extremely grateful to Judge Kuntz for giving Robert a second chance," the attorney said.
Robert Gala joined the FDNY's Emergency Medical Services in 2013 and remained on the job until his resignation in 2019, despite an arrest history dating back to 2012.
One of those busts included a 2017 police impersonation arrest on Staten Island just three days before the heist that landed him in federal trouble. He also had a documented history of blowing off 911 calls and was the subject of a Department of Investigation probe.
Until the federal charges in 2020, none of his arrests led to any convictions.
The federal case stems from the July 24, 2017, robbery of a pill dealer on a Brooklyn street.
Gala pulled out a gold badge, ordered a man to place his hands on a wall and used plastic handcuffs to restrain the victim while he searched his pockets, according to court papers.
When police arrested him in December 2017, he told them, "You know the guy that I robbed is a drug dealer, right? The news made it sound worse than it was."
The case was initially dismissed after the victim couldn't ID Gala, but in 2019, the victim told the FBI that Gala stole 180 oxycodone pills from him.
Gala's father is currently embroiled in a different type of legal battle. He and two other former assistant chiefs, Joe Jardin and Michael Massucci, are suing the FDNY and Fire Commissioner Laura Kavanagh after they were demoted to deputy chief in a February shakeup.
It's not the first time the elder Gala has sued the FDNY.
In 2021, he alleged that he lost a promotion because he wouldn't denounce a pair of letters to the editor he penned for the Chief-Leader newspaper in 2007 and 2011 criticizing the Fire Department's push to hire more Black firefighters.
The city settled the suit a few months later, and the FDNY promoted him to assistant chief.
©2023 New York Daily News.
Visit nydailynews.com.
Distributed by Tribune Content Agency, LLC.
McClatchy-Tribune News Service