Laura Kavanagh appointed as FDNY's first female commissioner
She joined the department in 2014, was named first deputy commissioner, and recently has been serving as acting commissioner
---
UPDATE ( 1 p.m. CDT): 
NEW YORK — New York City Mayor Eric Adams on Thursday appointed acting Fire Commissioner Laura Kavanagh to lead the department on a permanent basis, making her the first female commissioner in the 157-year history of the Fire Department of New York.
"Laura Kavanagh is a proven and tested leader, and I'm proud to announce her historic appointment today," the Democratic mayor said.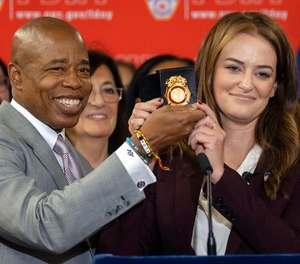 Kavanagh, 40, has served as acting commissioner since the retirement of Commissioner Daniel Nigro in February. She will oversee a department of 17,000, including firefighters and emergency medical workers.
Her appointment as commissioner represents progress for a department seeking to diversify after decades as a white male bastion.
As of August, there were 141 female firefighters in the FDNY, the most since a lawsuit forced the department to hire women as firefighters in the 1980s.
Kavanagh has never been a firefighter herself. She was a senior adviser to former Mayor Bill de Blasio and a campaign staffer for de Blasio and former President Barack Obama before joining the department in an administrative role in 2014, and was named first deputy commissioner in 2018.
As first deputy commissioner and acting commissioner, Kavanagh oversaw the department's handling of the COVID-19 pandemic and its response to tragedies including a Bronx fire that killed 17.
She is a graduate of Whittier College in California and has a master's degree in public administration from Columbia University.
 
EARLIER: 
By Thomas Tracy, Michael Gartland and Elizabeth Keogh
New York Daily News
NEW YORK — The FDNY's acting commissioner is to be appointed to the job permanently on Thursday, City Hall and Fire Department sources told the Daily News.
Laura Kavanagh will become the first female commissioner in the department's 157-year history.
Mayor Eric Adams will appoint the San Francisco native at a ceremony at Engine 33 and Ladder 9 in Lower Manhattan, fire department sources said.
The firehouse, located on Great Jones St. near Bowery in NoHo, was where the first fire commissioner, appointed in the late 1800s, was headquartered.
Kavanagh joined the FDNY in 2014 and was named first deputy commissioner four years later.
---

Read next
View from the top: A career climb rooted in female empowerment
New York Fire Department EMS Chief Lillian Bonsignore credits the support and encouragement she received from the women in her life for her success in emergency medicine
---
In that job, she oversaw the department's handling of the 2020 COVID-19 pandemic. She has also taken interest in diversifying the FDNY's ranks, including the hiring of more women to department jobs.
"It's important for young women to see other women in these positions, to know that there are other jobs in the fire department than just being a firefighter," Kavanagh said in 2018.
Kavanagh has also worked on efforts to improve the information available to firefighters at fire scenes.
In February, she was promoted to acting commissioner following the retirement of Daniel Nigro, the fourth-longest serving fire commissioner in FDNY history.
As commissioner, Kavanagh oversees 17,000 FDNY employees and a $2 billion annual budget.
She's already led the department in times of tragedy. The day Kavanagh became acting commissioner, Firefighter Jesse Gerhard, 33, collapsed and died after suffering a medical episode at his firehouse in Far Rockaway, Queens. The previous day, Gerhard helped fight a two-alarm blaze that Kavanagh described as a "tough assignment."
A little over two months into her tenure, Firefighter Timothy Klein, 31, died fighting a blaze in a Canarsie, Brooklyn home. And more recently, Kavanagh led the department in the wake of the murder on Sept. 29 of FDNY Paramedic Lt. Alison Russo on a Queens street.
Before Kavanagh joined the Fire Department, she was a senior adviser to former Mayor Bill de Blasio and held management roles in political campaigns.
____
©2022 New York Daily News. Visit at nydailynews.com. Distributed by Tribune Content Agency, LLC.
McClatchy-Tribune News Service