U.S. fire administrator embarks on Fire Stop Tour to launch National Fire Strategy
Dr. Lori Moore-Merrell and fire service leaders will make appearances in New York, Philadelphia and Washington, D.C., to address the country's fire problem and honor those lost to fires
---
By Leila Merrill
FireRescue1
WASHINGTON — The head of the U.S. Fire Administration and principals of America's national fire service organizations will travel to New York City, Philadelphia and Washington, D.C., this week as part of a "Fire Stop Tour" to honor those individuals lost to fires and address the nation's fire problem.
During those visits, U.S. Fire Administrator Dr. Lori Moore-Merrell will hold press conferences to share steps to reduce the risk of fire in local communities and launch the USFA's National Fire Strategy.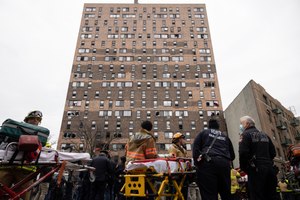 The tour begins one day after the one-year anniversary of the Twin Parks fire in the Bronx, New York, where 17 people were killed and days after the one-year anniversary of Philadelphia fire that killed 12 people, including 9 children, on Jan. 5, 2022.
[Read more: NYC, Philly tragedies highlight need to strengthen CRR efforts, trauma support]
In October, the USFA hosted the first Fire Prevention and Control Summit since the 1947 Conference on Fire Prevention and Control hosted by President Truman. The October summit included a roundtable discussion in which national fire service leaders made five recommendations to national leaders from the Biden administration. These recommendations now outline the national strategy to address the fire problem in the nation.
Prepare all firefighters for the climate-driven increase in wildfires in the wildland urban interface by providing them with the proper training and equipment.
Invest in a national apprenticeship program to address the firefighter shortage and make the fire service more diverse and inclusive.
Establish a comprehensive firefighter cancer strategy that invests in research, provides access to screening for firefighters, and reduces and eliminates PFAS exposure.
Provide behavioral health resources and suicide prevention initiatives for all firefighters.
Create safer communities by implementing and enforcing codes and standards, especially in the WUI and underserved and vulnerable populations, and provide affordable and fire-safe housing.
In addition to the roundtable discussion, recognized scientists and fire service leaders gave presentations on the challenges Americans face due to today's fire problem.