Colo. city officials OK funding for fire station gender-specific bathrooms
The city will spend $225,000 to make the fixes needed to give female firefighters their own facilities at the four stations in Pueblo
---
By Ryan Severance
The Pueblo Chieftain
PUEBLO, Colo. — An issue with some of its bathrooms that the Pueblo Fire Department has spent years trying to rectify will now be addressed after City Council on Monday night voted unanimously to provide funding for incorporating gender-specific bathrooms at the stations in town that still lack them.
The city will spend $225,000 to make the fixes needed to give female firefighters their own facilities at the four stations in Pueblo that don't currently have gender-specific bathrooms and showers. The fire department has a total of 10 stations throughout the city.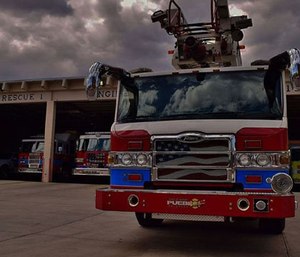 Council voted on the ordinance without any discussion following a presentation by Deputy Fire Chief Rick Potter.
The bathrooms at each of the four stations will be demolished, and each then will be divided into two equal-sized rooms to provide for separation and privacy.
Fire Chief Shawn Shelton has said there are eight female firefighters on staff at the fire department and that simply housing them in the stations that do have the necessary accommodations isn't practical given the fluid nature of staffing and schedules at the department.
There are seven females assigned to the four stations that don't have gender-specific bathrooms.
"Anybody can be assigned to any station at any time," Shelton said to The Chieftain.
The money to pay for the improvements was identified by the city after a plan it had to purchase property for a permanent homeless shelter on the East Side fell flat in the fall.
The city had been prepared to pay $475,000 to acquire a large building and a smaller one next to it on the 300 block of East Fourth Street, but that plan was scrapped when it was realized it was going to cost a lot more than initially anticipated to transform those buildings into living quarters.
The city settled on spending $250,000 for a temporary warming shelter that will be located at 901 W. Ninth St., so the extra $225,000 was marked for the fire station project that City Manager Sam Azad said is much-needed.
Copyright 2018 The Pueblo Chieftain