Husband of firefighter who died by suicide wants chief to resign
Steve Mittendorf's call for the resignation of Fairfax County Chief Richard Bowers came soon after Battalion Chief Kathleen Stanley stepped down
---
By FireRescue1 Staff
FAIRFAX, Va. — The husband of a female firefighter who died by suicide after being the subject of online bullying is calling for the resignation of the chief and other officials.
WTOP reported that Steve Mittendorf, the husband of Fairfax County firefighter Nicole Mittendorf, called for a change in leadership shortly after Battalion Chief Kathleen Stanley resigned in a scathing letter to Chief Richard Bowers, alleging that the department had a "false commitment" to making female firefighters feel equal in the workplace.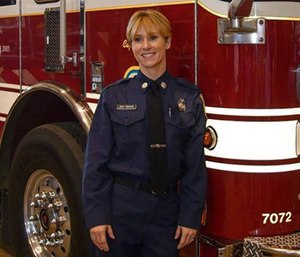 "Shortly after the suicide of my wife Nicole, a promise was made to me by the Department that every effort to educate and re-shape the culture of this male dominated profession would be met; ultimately, to provide every female or male a safe place to work free of harassment by others and one that is open to progressive change," Mittendorf said in a statement. "It is apparent that the Department has a lot more work to accomplish on this topic and it will be done under the microscope of public opinion."
Mittendorf added in the statement that he thinks the "time has come for Deputy County Executive David. M. Rohrer and the Fairfax County Board of Supervisors to re-evaluate the executive leadership of the Department and to ask for the immediate resignation of Chief Richard Bowers and his assistant chiefs by seeking new leadership for this plagued Department."
Mittendorf said he had hope that Bowers would reform the firehouse culture and that he was willing to work with him, but added that he had not had contact with Bowers since he learned the firefighters' union questioned the reason behind his wife's suicide.
"I continue to have faith, high praise and support for the women and men of this agency but I do believe it is time for a significant leadership change," he wrote.
Bowers refused to comment on Mittendorf's request.
"I don't have to, or don't want to respond to anything he's said," Bowers said. "He doesn't work for me, and he doesn't work for the county. I'm working to continue to make the department even better. We have people who follow the rules, and anybody who does not do the right thing will have to answer."