Pregnancy and firefighting: Is firefighting bad for your baby?
Research examines the impact of the job on pregnant firefighters
---
In 2018, headlines told the story of Nicole Morris, a 35-year-old firefighter who was denied light duty despite being 7 months pregnant. The negotiated contract for her department indicates that firefighters who encounter non-duty-related illnesses (including pregnancy) are not allowed to be put on light duty.
Unfortunately, Firefighter Morris is not alone in being with a department that is lacking policies that protect the health of pregnant women and their offspring – and we at the Center for Fire, Rescue & EMS Health Research reported on this in the article "Maternal and Child Health Among Female Firefighters in the U.S."
Research highlights concerns for pregnant firefighters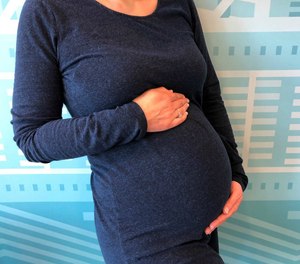 We surveyed career female firefighters and found that of the more than 1,800 firefighters who responded to the survey, 23.9% reported that their department had no policies related to pregnancy. Further, an additional 17.5% of women didn't know whether their department had a policy. Nearly a quarter of women reported that their departments had no maternity leave policies, and another 14% reported that they didn't know whether they had a department policy.
The research revealed that for female firefighters, 27% of pregnancies ended in miscarriage. The rate is higher than the published rate for pregnancies in the literature, which was 13.5%. Additionally, rates of pre-term birth were 11.6%-16.7%, which is higher than the national average of 10%.
Gathering the data is the first step in understanding the risks to maternal and child health. While analyses were limited to the data collected in this study, research is already underway to look more in depth at the risks firefighters face and birth outcomes during work as a firefighter compared with pregnancies for women working outside the fire service.
---

Read more
The pregnancy paradox: Why are fire departments not required to accommodate?
Pregnancy should not require female firefighters to abandon their careers, pay and benefits in exchange for the safety of their baby
Potential health risks to pregnancy
The full impact of firefighting on pregnancy remains to be seen, but the concerns are not new. Potential health risks that might contribute to complications include chemical, biological and radiologic exposures, as well as non-exposure risks, such as shift work, physiologic strain and working in situations with high ambient temperatures.
The International Federation of Gynecology and Obstetrics warns against chemical exposures for pregnant and breastfeeding women. In particular, exposures during the first three months of pregnancy can lead to miscarriage and/or birth defects, while later exposures can lead to slowed fetal growth, impeded brain development or preterm labor. A number of the exposures warned against are those present on the fireground, including allergens and irritants (e.g. ammonia, hydrogen chloride, sulfur dioxide, phenol), asphyxiants (e.g. carbon monoxide, hydrogen sulfide, carbon dioxide) and known carcinogens (e.g. polycyclic aromatic hydrocarbons, chromium).
Research identifying and quantifying fireground exposures through personal air sampling and smoke particles have found lead, which can lead to increased risk of developmental disabilities among offspring, increased risk of miscarriage, low birth weight and infertility.
The impact on men
It might seem like this is an issue just for women in the fire service, but men aren't off the hook.
Research from the 1990s suggests that offspring of male firefighters may have an increased risk of septal defects, although little recent data is available on this topic. While the data is limited, current efforts are underway to look at more child health outcomes and whether the exposures of parents can lead to increased risk for offspring.
Additionally, a study published in early 2019 found that male firefighters were around 50% more likely to seek fertility treatment than their non-firefighting peers in a population of Danish firefighters. 
Exposure prevention is key
The lack of definitive data on the relationship between firefighting and child health makes prevention even more important. In case you were looking for a reason beyond cancer prevention for limiting fireground exposures to chemicals, protecting the health of your children – and making sure you can have them if you want to – is certainly an added benefit.