Basement fire hazards: What firefighters need to know
Firefighters face limited ingress/egress, limited ventilation, and drainage problems with attack water, plus a rapid increase in heat buildup
---
From a firefighting standpoint, basement/cellar fires are one of the most dangerous and challenging fires encountered inside a building. 
They have limited ingress/egress, limited ventilation, and drainage problems with attack water. Fire in basements causes rapid increases in heat buildup, making these types of fires particularly demanding. 
Interior suppression crews face significant heat during ingress to the seat of the fire while operating in an environment where minimal ventilation causes retention of that heat. This heat in basement fires tends to radiate back on the attack crews.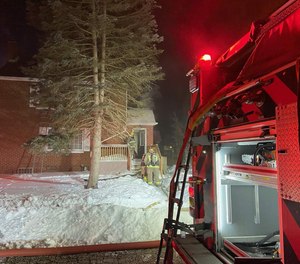 In addition to being hot, challenging, abusive-type fires, basement fires should be considered as possible hazmat incidents. Basements are notorious for being the long-term storage place for not only normal combustible storage items, but for paints, solvents, varnishes, insecticides and cleaning solvents.
It is also the main area of the structure where water heaters, dryers, and HVAC units are stored and generally fueled by natural gas, propane or fuel oil. Consider some type of gross decon for interior attack crews after a basement fire.
Fire attack impacts
All of these problems cause significant impacts on the ability to deliver fire attack tactics during the evolution of a basement fire. These additional impacts include fire suppression tactics, search and rescue, ventilation and rapid intervention.
Tactics for fighting basement fires begin while responding. If there are numerous reports from interior occupants, let this drive your initial fireground operations. Get that water supply established as rapidly as possible. Remember that basement fires are generally self-contained until they generate enough heat and pressure to cause window failures in those structures that have basement windows. 
Light smoke coming from the interior of the structure should lead you to believe that a much larger volume of smoke awaits you in the basement. A rapid size-up is critical to identifying the fire location in the basement as well as locating alternate entrance and exit points.
Remember, most basements are unfinished, which exposes the structural floor joists and their support structure to flame contact. Newer structures with engineered floor supports or "silent floor systems" will burn and fail quickly. Consider the possibility of extension of the fire into the support structure of the floor you are operating on.
The first attack crew will be challenged by having to position themselves at the hottest area at the top of the stairs into the basement area. A second line should be established at the top of the stairwell to protect the structural integrity of the stairs.
Steam burns
Nozzle selection should consist of a solid stream nozzle or the straight stream setting on the fog nozzle. With minimal ventilation, more water surface area can cause steam generation and steam burns to the attack crews. Rapid establishment of ventilation will be the best tactic to reduce the heat and smoke from the fire, which will greatly enhance access and suppression for the engine crew.
Initial attack crews must perform a rapid risk/benefit analysis regarding the initial attack strategy. If an interior attack is selected, the attack crew must move to the basement entry point quickly and down the stairs as rapidly as possible to reduce the punishment from the heat and smoke while moving through the "chimney" and into the basement. 
The incident commander should have a strong accountability process and establish a formal RIT team as soon as possible. An IRIT (initial RIT team) should be in place before an initial fire attack.
Keep in mind that the open basement door will also allow for rapid fire/heat/smoke spread throughout the first floor while the attack occurs in the basement. Keep a strong grasp on the total timeline of interior firefighting. 
If dealing with a truss or engineered floor system, keep your interior attack times to a minimum — 15 minutes at the most. If interior attack teams are not making progress on the fire within five minutes of arrival, consider making a switch to a defensive attack and plan for that change at the 15-minute mark or sooner if interior structural conditions deteriorate.
Plan for a second means of egress if the interior stairwell is compromised by fire or structural degradation. Incident commanders should remember the beating the first attack crews are taking. Rotate attack crews on a shorter timeline than normal, set up rehab and increase the total number of personnel on the first alarm to allow for crews to recuperate.
Rapid basement fire tactical check-off
Perform risk/benefit analysis: Is it worth making an interior attack?
Consider the secondary means of egress: How will you make one?
Ventilate prior to entry.
Protect the stairwell!
Consider fire damage to structural components.
The attack team must move down the stairs quickly, hugging the bearing wall when possible.
Use solid streams when possible to reduce steam burns.
Monitor environment above the firefighters at all times with thermal imaging.
Use backup lines as soon as possible!
Ensure that interior teams report conditions to IC as soon as possible.
Remember to limit the total time of the interior attack.
Calculated risks
When fighting basement fires, remember to first make a calculated decision whether or not you want to risk your firefighters in that structure. If you elect to perform an interior attack, make it fast, ventilate immediately, select the proper nozzle, reduce your interior attack time and decon your crews afterward. Basement fires are punishing and rehab will be needed after extinguishment.
Editor's note: This article, which was originally published in 2007, has been updated.