Firefighter falls through roof at restaurant fire
San Diego Fire Capt. Vadid Cisneros walked out of the building after falling about 20 feet through the roof
---
By R. Stickney
NBC 7
SAN DIEGO — A fire captain fell through the roof while battling a restaurant fire on Miramar Road Wednesday, which forced a worker to be hospitalized.
Smoke filled the air above the Bombay Grill just before 10 a.m. The restaurant is located north of MCAS Miramar just west of Interstate 15.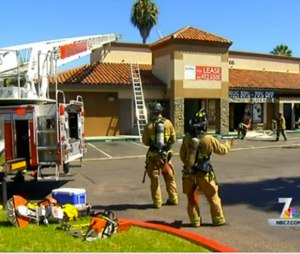 As San Diego Fire-Rescue crews climbed on top of the building to put holes in for ventilation, SDFD Capt. Vadid Cisneros fell through the roof. Officials estimate he fell approximately 15 to 20 feet to the floor below. He walked out of the building on his own, officials said.
Full story: Firefighter falls through roof battling restaurant fire at Bombay Grill