Firefighter injured in Md. house fire
Officials said firefighters pumped water from the Chesapeake Bay due to there being no fire hydrants in the area
---
Alex Mann
The Capital, Annapolis, Md.
HIGHLAND BEACH, Md. — One resident was displaced and a firefighter was injured during a fire Saturday morning at a house in Highland Beach, where there are no fire hydrants, Anne Arundel County fire officials said.
Firefighters responded to the 1200 block of Bay Avenue around 8:30 a.m. after neighbors called 911 to report a fire at a one-story home, said Capt. Russ Davies, the fire department spokesman.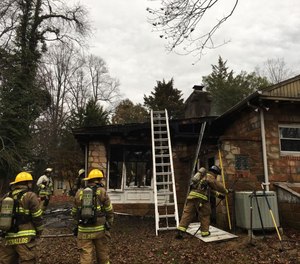 First on scene firefighters found flames emanating from the rear of the single-family home, he said.
But this community in Highland Beach is not equipped with fire hydrants, Davies said, so fire crews had to establish a water supply.
Davies said one fire engine was used to pull up water from the Chesapeake Bay and pumped it to another engine at the scene to douse the fire.
Some 30 firefighters responded and put out the fire in about 30 minutes, Davies said.
The only resident of the house was not home at the time of the fire, Davies said. And no other civilians were injured.
However, Davies said paramedics drove one firefighter to Anne Arundel Medical Center with minor injuries.
The firefighter worked for the Naval Support Activity Annapolis Fire Department, which along with the Annapolis Fire Department assisted county crews in combating the blaze, Davies said.
Davies said fire officials do not know whether the house was equipped with a smoke alarm and whether it was working at the time of the fire, which caused an undetermined amount of damage.
The Anne Arundel County Fire and Explosives Investigation Unit, a team of sworn police officers, is investigating the cause of the blaze.
———
©2020 The Capital (Annapolis, Md.)
McClatchy-Tribune News Service