Firefighters battle massive commercial fire in LA
More than a 100 firefighters responded to the blaze; part of the structure collapsed in the fire
---
By Matt Hamilton
The Los Angeles Times
LOS ANGELES — More than 100 Los Angeles firefighters were battling a massive blaze Thursday night in Boyle Heights.
The fire was reported in a one-story commercial building about 7:45 p.m. in the 1600 block of South Soto Street, said Erik Scott, a spokesman for the Los Angeles Fire Department.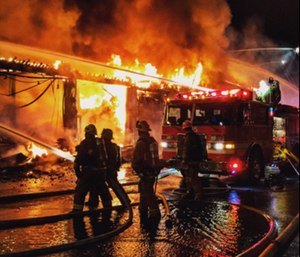 The crescent-shaped building occupies about 70,000 square-feet, and part of the structure had collapsed by 8:30 p.m., Scott said.
Footage broadcast on KCAL-TV Channel 9 showed flames tearing through the building, sending a plume of black smoke into the night sky.
Firefighters mounted tractor trailers parked near the building in order to spray water into the raging blaze.
It's unclear what caused the fire. No injuries were reported.
LAFD officials were working with the Department of Water and Power to ensure that firefighters had adequate water pressure, Scott said. The DWP was also assisting in response to possible downed power lines, he added.
This story will be updated as more information becomes available.
Copyright 2016 the Los Angeles Times
All Rights Reserved