NIOSH: Inadequate size-up contributed to Ind. firefighter death
Assessment didn't consider impact of limited water supply, available staffing, occupancy type, lightweight roof truss system
---
The initial size-up of an Ind. church fire that killed a firefighter did not fully consider the impact of limited water supply, available staffing, the occupancy type and the lightweight roof truss system, according to a National Institute for Occupational Safety and Health report.
On June 15, 2011, Firefighter Scott Davis, 40, was conducting interior firefighting efforts inside the Muncie church when the steeple collapsed onto the sanctuary portion of the structure. Other firefighters escaped with minor injuries and commenced search-and-rescue operations for Firefighter Davis.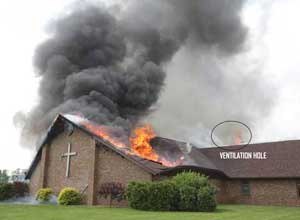 The report, released March 26, also said that an offensive versus defensive strategy and the ineffective use of risk-management principles contributed to Firefighter Davis's death.
NIOSH recommended that fire departments ensure a complete situational size-up is conducted on all structure fires. In this instance, the incident commander's size-up did not identify proper strategy and tactics for the church, the location and size of the fire hidden in the attic, a practical water supply for suppression (no water hydrants were near the church, and a lake from which to pull water was only identified later) and hazards associated with the lightweight roof truss systems used in the church.
The incident commander also placed his command post so that he could not see conditions on the opposite side.
"When the acting BC arrived on scene, he began a walk around of the structure where he discovered that the steeple had toppled over, indicating the potential for further collapse of the roof structure," the report said.
Fire departments should also weigh fireground factors against risk management principles at every structure fire, NIOSH recommends. When no other lives are in danger, as in this incident, firefighters' lives are the highest priority, and a defensive strategy would be better than an offensive one.
"The volume of fire discovered in the attic was too large for the initial 1 3/4-inch hoseline and not easily accessible by the firefighters," the report said. "Also, the fire department did not have sufficient water and significant fire flow to extinguish a fire in a nonresidential structure and of the volume of fire encountered."
NIOSH's final key recommendation in the report is that fire departments perform pre-incident planning inspections of buildings within their districts so that they can develop safe fireground tactics.
These inspections should note building characteristics, safety hazards, the length of the response time and the locations of the closest fire hydrants. NIOSH acknowledges the challenge for departments with many structures, so priority should be given to buildings with elevated or unusual fire hazards, being a high-risk, low-frequency type of incident and considerations for life safety.
In the fire that took Firefighter Davis's life, the firefighters involved knew that the area did not have an immediate water supply, but the church had no pre-incident plan.