Overcoming Hazards of Lightweight Construction
By Chief Gary Bowker
Everyone Goes Home Program Kansas Advocate
If we fail to understand the risks in a structure built of lightweight wood-frame construction that is involved in fire, there is a high likelihood that firefighters will be seriously injured or killed as a result.
The rules of the game have changed. For many decades, the U.S. fire service has been taught and practiced the virtues of an aggressive interior fire attack when dealing with most structure fires. While this approach has served us well with fighting fires in traditional wood-frame construction, it can be lethal if this tactical approach is applied to structural fires of lightweight wood-frame construction.
A cultural change in our tactical thinking is needed. In my community, most of our residential structure fires occur in older homes built of traditional wood-frame construction. But as lightweight wood-frame dwellings get older and become more vulnerable to fire, the likelihood of firefighter injury and death increases, especially if we ignore the dangers presented by them.
A cultural change in our thinking is also needed in how we view residential sprinkler systems. For years we have known the life saving value of sprinklers for the occupants, but how about the life saving benefit for our firefighters? A quick reaction sprinkler head can control or extinguish a room and contents fire before flashover conditions are reached.
The life saving benefit to our firefighters is obvious. In light of the fact that increased use of lightweight wood frame construction methods and materials are here to stay and will only increase with time, doesn't it just make sense that we advocate the use of residential sprinklers in our communities?
You must take the lead with promoting this change, not only within your department but within your local communities by educating city and county leaders, engineers, building code officials and the general public. Most citizens would be shocked to know that some in the building profession actively promote "how-to" programs for working against the local fire department in mandating the use of residential sprinkler systems within our communities.
In my community, the effort to promote a cultural change in firefighter safety and awareness about the presence of lightweight construction has included the development and implementation of the Blue Diamond Program. This was designed after learning about another community on the East Coast that started a similar such program.
The purpose of the Blue Diamond Program is to alert responding firefighters arriving at the scene of a commercial or industrial structure fire where lightweight construction is used by the placement of a blue diamond placard on the exterior of the building. One or more Blue Diamond placards are placed in conspicuous locations on the exterior of the building, thereby alerting responding firefighters immediately upon their arrival.
The Blue Diamond is designed with four quadrants, similar to the NFPA 704 Diamond. The all-weather reflective diamond is Safety Blue in color and measures 14 x 14 inches square. The top quadrant contains the letter T which denotes the presence of truss construction. The lower left quadrant contains the letter R if truss construction is used in the roof system. The quadrant to the right contains the letter F if the structure has floor trusses present. If floor trusses are not present, the quadrant is left blank. The bottom quadrant contains the letter M or W denoting either wood or metal construction.
This information is also contained in the department's quick access pre-fire incident plan. However, the advantage of the Blue Diamond program is two-fold. First, it provides four key pieces of critical information about the building's construction immediately upon the arrival of firefighters prior to their entry. And secondly, the diamond serves as a constant reminder to firefighters while doing preplanning and familiarization training in the community.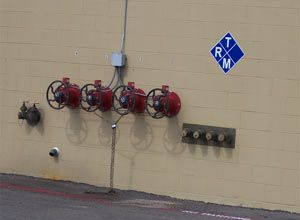 Blue Diamond signs are also located on the back sides of structures at FD connection.
This program was recently presented to the Winfield City Commission and was unanimously recommended for adoption into the Winfield City Fire Code for community-wide use. This is a great example of the commitment by local community leaders to support the firefighter Life Safety Initiatives if we take the time and effort to plan and educate them. This ordinance became effective in March last year.
The vast majority of our LODDs in the United States are absolutely preventable. But it takes leadership and commitment not only from you and your department, but from your local government leaders, too. They must be educated and informed about the hazards and challenges faced by our fire service today. The goal of the Firefighter Life Safety Initiatives Program implemented in 2004 is to reduce firefighter line-of-duty injuries and deaths by 50 percent by 2014. If this goal is to be realized, it must start with you.
My challenge for you is this: Be a leader in your department and community. Ask yourself what you ca do for your family, your department and for yourself to bring about change.
Gary Bowker is a retired fire chief with the U.S. Air Force, and is the past fire chief with the Sumner County Rural Fire District #10. Chief Bowker recently retired as fire marshal with the City of Winfield, Kansas, a community of 12,000 people. Chief Bowker has 34 years of fire service experience and now teaches part time with Butler Community College Fire Science program and is an associate instructor with the University of Kansas Fire & Rescue Training Institute. He also serves as a Kansas advocate with the National Fallen Firefighters Foundation's Everyone Goes Home program and speaks frequently on firefighter life safety and health issues. You can contact Chief Bowker at glbowker@hotmail.com.