Pa. firefighter loses home to fire, dept. rallies to show support
"You never expect to go through it. Never. It's just unreal," firefighter Joseph Small said
---
By FireRescue1 Staff
UNION TOWNSHIP, Pa. — A fire department is rallying behind one of their own after a fire engulfed a firefighter's home Friday.
WFMZ.com reported that Monarch Fire Company firefighter Joseph Small's home was destroyed in the blaze.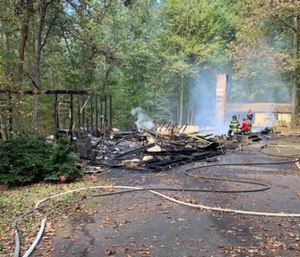 "You never expect to go through it. Never," Small said. "It's just unreal. First thing I thought, 'Is everyone OK?'"
Small, who has lived at the home for 18 years, said it's a place filled with memories. Small's mother said they lost "a lot of treasures," according to the report. 
After the fire, the Monarch Fire Company set up a GoFundMe page for the family. 
"Just hits close to home, realizing one of our guys and his family lost everything, and it was heartbreaking," Lt. Rodney Wagner said. "We want to raise as much as possible and help them."
Small said he's grateful for the department's support. 
"It's like a brotherhood in a fire company," he said. "Joy and appreciation, very appreciative of what's going on."