Why we need a culture of safe suppression
I understand the point Lt. Ray McCormack was trying to make two years ago and, to some extent, I agree with him
---
It's often said that the best offense is a good defense. Unfortunately, that's not a philosophy that we in the fire service have embraced.
Quite the contrary, the American fire service in most places addresses strategy and tactics only from an offensive interior frame of mind.
Before we go too far, I again want to remind readers that my columns are designed for your critical thinking. I'm not here to tell you what's right or wrong but rather I want to offer a different perspective for you to think about.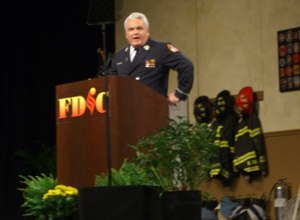 Much of it is from observations I have made, and discussions I have overheard. So for this particular column, I'm really going to shake it up.
If you take the time to read many of the NIOSH reports that are available resulting from a firefighter injury or fatality, you will find that situational awareness and tactical positioning are often a common theme as a root cause.
In many cases, a 360 was not conducted initially and/or continuously during the event. The fatal act of freelancing often arises in the scenario, or simply the attack crews are incorrectly or dangerously positioned.
Emotive speech
With that said, I want to remind the readers of what Lt. Ray McCormack from FDNY said a couple of years ago in his keynote address at FDIC in Indianapolis.
In summary, he remarked that the fire service needs to focus more on a culture of suppression and not as much on the emerging culture of safety.
I understand the point he was trying to make and, to some extent, I agree with him. However, why can't we focus on a culture of safe suppression?
As I travel the country and deliver various presentations, I have begun to ask a few questions that I find get the same response, regardless of where I go.
The first is this: how many fire departments during recruit schools have a defensive evolution as the recruits' first live burn experience?
I'm not talking about taking them in to watch smoke development, thermal layering, or fire growth (this should all be done first), but instead they arrive on an apparatus and are pulling hose for a defensive stand. Furthermore, how would they conduct an offensive exterior attack using ventilation and hose streams in the window?
I continue the inquiry by asking how many times during in-service training are the first arriving engine and/or company officer tasked with establishing a defensive operation and to determine the strategy and tactics thereof.
In almost every case, not a single hand goes up. It creates some dialogue for sure. I get some rolling of the eyes, crossing of the arms, and the occasional "that's not what we are trained to do."
Well, my point exactly. But then I also get those who say, "You know, I never thought about that" and "I think we will try that."
Now some of you may disagree with this. But again, this is to create dialogue and not tell you what's right or wrong. I know you are probably thinking about life safety.
Life safety issues
Certainly, if there is a life safety issue, then we must focus on offensive interior tactics. However, that offensive decision must be based within the risk management model.
Not the "risk a lot to save a lot," but rather we MAY risk our lives in a calculated manner within a structured plan for SAVABLE lives.
Sometimes the response is, "But we get paid to protect property, too!" Of course we do, savable property, again within a structured plan that minimizes life safety hazards.
This still means we can conduct interior offensive attacks, within a structured plan for savable property IN conducive conditions and have the resources to match.
So much of what we do is muscle memory. We are told in recruit school to "get in and get it." That is an offensive term, and there are times that we should do exactly that -- but not every single time.
I've seen occasions where the occupants of the house are out and have informed the Incident Commander they are all accounted for, but yet crews still focus on conducting a primary search during active fire conditions.
Why? Muscle memory. That's what we've always done and have been taught. The box of life safety is checked off, right up until we send firefighters back into a dangerous environment unnecessarily.
I have had the fortune to serve in a couple of different capacities at a few departments in my career. When I was the fire chief in Riverdale, Ga., I was asked to serve on a firefighter injury incident review committee that unfortunately became a LODD.
I went back to my department and met with all three shifts to emphasize my care for them and their safety, and suggested they take a breath when they arrive on scene to look at what they have, and don't worry about going interior offensive all of the time.
If all life safety is accounted for, and they can hit it from the outside, don't worry about what the critics will say, because their families will say thank you at the end of the shift when they come home. Crazy thoughts from the Chief, huh?!
Structure fire
One week later, the crews were rung out for a structure fire that was called in by the neighbor. Upon arrival, heavy fire was showing from the A-B corner. Occupants were removing furniture from the D side door on the carport. They didn't even bother calling the FD, but they did let us know they were all out.
The company officer called for a cross lay and they began to make access on the D side carport door. With no luck, the company officer called his crew back and went to the front windows where fire was showing.
The fire was attacked through the window until conditions improved. I arrived on scene as hot spots were being put out.
The company officer and Incident Commander gave me the full report and they said, "We knocked that fire down from the outside quicker than us trying to make our way through the house."
They were impressed and said they remembered what I had told them. Fortunately for them, about at the point where they would have positioned on the interior to hit the fire, the ceiling had fallen in.
For us, that was a successful learning experience. But also keep in mind that was a department that had two to three companies on dispatch at most.
I was also fortunate to work in Washington, DC, Fire Department and saw some simply amazing firefighting. Well trained, well organized, and well executed strategy and tactics.
The difference was the vast experience that the crews had in firefighting, and the large amount of resources deployed on a single working fire dispatch. But not every department has the resources like DCFD, FDNY, or Chicago. So why do we try to fight fires like we do?
This is where I agree with Lt. McCormack. We do need a culture of suppression. Teach it the right way, and not just a single way.
Recognition of fire behavior
Situational awareness includes recognition of fire behavior, building construction and resource allocation. We should change the mindset that an offensive exterior attack when life safety is not compromised is not taboo.
Train firefighters to understand when a fire is defensive and how it may transition into an offensive, instead of the other way around.
I know it's our job to be aggressive and mitigate the incident, but it's not our job to get injured or die because of the culture, offensively or defensively, interior or exterior.
Simply, building construction has changed, fire conditions have changed, flashovers are occurring sooner, and our resources are being reduced.
In your next training evolution, try calling a defensive audible and see how your crews perform. Be safe!