Firefighters use 11 boats, 2 choppers on rail-bridge blaze
The fire did not spread beyond the bridge; the cause is under investigation
---
The Associated Press
NORCO, La. — Firefighters Saturday used helicopters and airboats to douse a blaze on a train trestle west of New Orleans that left Amtrak service disrupted.
St. Charles Parish spokesman Tristin Babin said Saturday afternoon that the fire had been contained but not yet extinguished.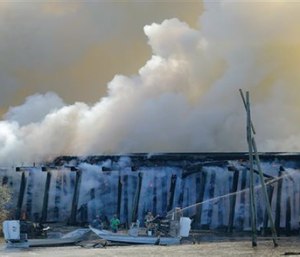 Officials responded after 8 a.m. when people working on the Canadian National Railway trestle reported the fire. Babin said workers had been grinding rails, but CN spokesman Patrick Waldron could not confirm that. Waldron said the cause of the fire is being investigated.
Amtrak truncated the southbound run of its City of New Orleans train in Jackson, Mississippi. Christina Leeds, a spokeswoman for the rail service, said passengers were bused south from there. Passengers for Saturday evening's northbound departure toward Chicago were also bused northward from New Orleans and intervening stops to Jackson.
Waldron said the trestle also carries four to eight freight trains a day. He said crews from Montreal-based CN will evaluate the damage and plan repairs.
"I can't give a timeline when it will reopen," Waldron said. "You can see from the pictures there is damage that has to be repaired."
Leeds said Amtrak is working on arrangements for future travel.
Billowing smoke and towering flames attracted widespread attention because the rail bridge runs along Interstate 10 as it crosses the Bonnet Carre Spillway. However, Babin said the interstate wasn't shut down. In part because the spillway remains soggy after it was opened last month to divert Mississippi River floodwaters, the fire did not spread.
Because the area near Lake Pontchartrain is swampy, Babin said firefighters relied on 11 boats and two helicopters to fight the blaze.