Earning the numbers on your helmet shield
Have you earned your number or were you just happy to be drafted?
---
During the NFL draft, the player chosen from amongst his peers stands and accepts a cap and jersey showing the team who has chosen him.
The number on the jersey will not be the number they wear during the upcoming season. That number must be earned with sweat, blood, blisters and I'm sure quite a bit of hazing and ridicule from his fellow players. The fire service is no different.
Firefighters have a lengthy tradition of belonging to a company or small cadre of folks assigned to the same apparatus, area or responsibility. In the early days, fire service companies were formed with names like Reliant Hose Company, Knickerbocker Engine No 5 and Eagle Hook and Ladder. Firefighters who joined these companies earned elaborate custom leather belts and helmet fronts showed their rank and designating them as members of the company.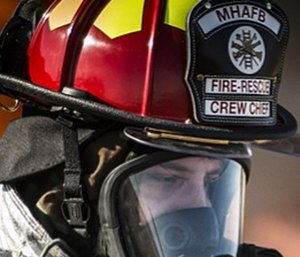 When I joined my current department, I was issued a blank helmet shield, in my mind signifying I had not yet earned my numbers. I had been drafted, but still had to prove myself and be accepted by a company.
When the modern municipal fire departments were formed around the turn of the 20th century, many of the named companies were numbered in the order they joined. The first engine company to join was given the number one and so on and so forth. Today, you will likely see a number on the helmets of firefighters signifying their membership with a department, but more prominently, you'll see their number or company.
I have only earned two sets of numbers in my 19-year career, both within three months of one another.
Station 16 is the Surf Rescue house. I had been selected to replace a member going off on maternity leave and joined the company with a blank shield. It would not be until after my surf rescue training that I could earn my numbers and join the company as an equal. For months, another member and I rode the engine and truck with blank shields. Finally, we were accepted into surf rescue school. After the exhausting week-long training, my co-worker and I returned to the house to complete our Friday 24-hour shift. When we were done cleaning our gear, we both took our helmets over to the work bench and carefully and purposefully carved and drew a 16 into our shields.
We had earned our numbers.
Soon after that accomplishment, I was chosen to be one of the firefighters to open a new station with a new number. I very carefully filled in that 16 I had tried so hard to earn, and replaced it with the last number that helmet would ever display: 51.
Those of us assigned to this new station wore the number proudly, earning it by eating in an empty kitchen and organizing donations from other houses to help us get started. We got a few different items from each house, as was tradition. Those first few months were rough, even spending the first week cohabitating with a nearby company in a very crowded firehouse. We earned the numbers and wore them proudly.
While on assignment at Engine 51 I was promoted to rescue captain and was issued a new shield. A new blank shield. 51 is now on a shelf in my home, reminding me of all the hard work that went into earning it. If you look closely at the 51 shield, you can see the old 16 underneath and the giant dent where the ceiling fell on me in 2007.
The new shield holds a generic design of my rank, not a number of the company I work for. I am looking very much forward to earning the number it will soon display: 67.
Have you earned your number or were you just happy to be drafted?