Let your choices lead; your feelings will follow
When faced with difficult decisions, how do you put your feelings aside and change your attitude to make the right choice?
---
By Helton Pereira
We live in a time when people are encouraged to follow their hearts and act based on their feelings. But oftentimes, by allowing our feelings to dictate our choices, we end up making rushed decisions, which can result in the wrong attitude to deal with a problem.
As firefighters, we usually have to make quick choices on the fireground based on our training and experience. However, some of the biggest choices we make come at the firehouse. Those choices can make or break our assignments, our crews and sometimes the longevity of our careers.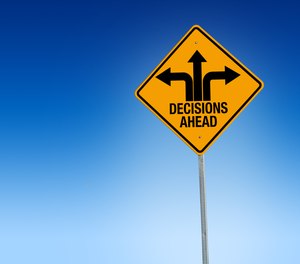 A few years ago, while reading a workbook from pastor and author Chris Hodges, I was introduced to the idea that "choices lead, and feelings follow." The idea is simple: The choices we make will encourage our feelings to follow along with what we are doing. This idea has taught me that I don't have to wait until I feel like doing something to act on it.
The more I tried to live out this concept in my everyday life, the more I found myself living it out through the difficult decisions and adversity I faced in the fire department. It was already clear to me that if I were to wait until I wanted to do something, I would rarely get started or accomplish a task.
"Choices lead, and feelings follow" was not just a tool to fight procrastination. It was also something that sparked a change in my mindset. It helped me change my attitude. I began choosing to be positive in negative situations. Changing my attitude to look at the positive side of things made me realize that my actions are a result of how I choose to direct my feelings.
Over the last few years, I have had to put this principle into practice a lot more in my life in the fire department. Like many fire departments across the country, members of my department have had their benefits reduced or cut. The work week expanded from 48 hours to 56 hours. The volume of calls continues to increase with a population that continues to grow. An ever-increasing number of vacancies has created staffing shortages and mandatory holdover. At times, it seems like there are more negatives than positives. Despite these setbacks, I choose to look at the positive things that this career has afforded me.
Choosing the fire service as a career was an easy choice. However, after 15 years, I begin to feel the weight and stresses of calls, losing close friends in the line of duty and to diseases directly affiliated with the job, and being mentally and physically beaten up. I have days when I don't feel like I can do it anymore, and those days are hard. That is when I remind myself that "choices lead, and feelings follow." On those hard days, I pick myself up and choose to show up to work with a positive attitude. I choose to do the right thing on a call and not take a shortcut to make my life easier. I choose to not be negative in front of the rookie so they don't feel jaded about the career they just started. After all, no one joins the fire service simply based on a feeling. Joining the fire service is not only a choice we all make, but also a calling we have.
Recently, while trying to stay both physically and mentally healthy, I began asking myself a question: "How did I go from being so happy to achieve my dream job to constantly complaining around the firehouse?" Please don't misunderstand my point here. I'm not saying you should "Stop complaining! You should be happy you have a job!" I have been told that before, and to me this phrase is thrown around by supervisors who do not have answers to questions. I wrestled with for a while – how I could switch my perspective so I could look and respond positively to the cards I am dealt. I have been asked many times, "How do you do it? How do you keep a smile on your face despite all this?" And as silly as it sounds, I simply choose to smile. It is not a state of learned helplessness. I don't choose to smile because there is nothing I can do about it. I choose to be positive despite being dealt a "soup sandwich" time after time. Complaining around the kitchen table will only take my pity party so far, and I don't want to add to the low morale problem. So I began choosing to have a positive attitude about things no matter what.
Although I just recently learned to live by "choices lead, and feelings follow," the concept has been echoed by others in my department. Retired Battalion Chief Brian Cooke had a saying that he shared with his crews: "On the days I feel like exercising, I exercise because my life depends upon it. On the days when I don't feel like exercising, I exercise because someone else's life depends on it." Attitudes like this can change the atmosphere in a firehouse and boost morale.
The fire service is a great career choice. But like any other career, it has ups and downs. To navigate the down times, this concept helps us rise above the situations we are dealt. It also helps us make hard decisions independent of how we feel about them. Whether the choices we make have to do with working out, making a hard decision or changing our attitudes, being intentional about it will allow our choices to lead and our feelings to follow.
About the author
Helton Pereira is a 14-year lieutenant in Prince William County (Va.) Department of Fire and Rescue. Lt. Pereira was first hired as a firefighter/EMT-B and later became a driver/operator and EMT-paramedic. He also holds technical certifications, such as hazmat technician and swiftwater rescue technician/boat operator. Pereira has a love for teaching and self-leadership, and assists in educating and training members of his department, from recruits to veteran members. Pereira earned a bachelor's degree in fire administration, and is currently perusing a master's degree in fire executive leadership/public administration.