Safe apparatus operation, the next firefighter safety initiative
Implement initial and continuous training on emergency vehicle operation SOGs, vehicle dynamics and defensive driving to combat the second greatest cause of firefighter LODDs
---
This feature is part of our Fire Chief Digital Edition, a quarterly supplement to FireChief.com that brings a sharpened focus to some of the most challenging topics facing fire chiefs and fire service leaders everywhere. To read all of the articles included in the Summer 2018 issue, click here.
Firefighter health and safety initiatives have taken many forms in recent years. Operational safety initiatives focus on accountability in proper PPE usage and decontamination. Firefighter wellness programs call for annual physicals and a regular exercise regimen for improving cardiovascular circulation and physical endurance. And behavioral health initiatives drive us to take responsibility for one another to make sure our firefighters seek professional help for conditions such as PTSD, depression and chemical dependency.
The responsibility of safely driving an emergency vehicle, however, is just as important to the wellbeing of firefighters as any of these other initiatives. Fire apparatus crashes account for 25 percent of firefighter line of duty deaths, second only to medical emergencies such as heart attacks and strokes, which account for 42 percent of LODDs.
Fire apparatus standard operating guidelines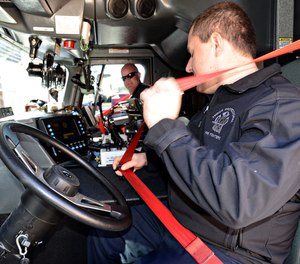 Most fire departments have Standard Operating Guidelines that cover the major aspects of driving apparatus:
The use of warning lights and sirens.
The safe maximum speed of an emergency vehicle.
The need for an assigned spotter when backing up or turning a vehicle around.
How to approach an intersection with a red traffic light or stop sign.
How to properly use an emergency vehicle to create a safe zone blocking traffic lanes while operating at a motor vehicle crash.
The mandatory use of seatbelts in all fire department vehicles. Seatbelt use has proven to reduce the number of injuries in motor vehicle crashes. All newer department vehicles have been fitted with seatbelt alarms that alert an officer when one of the firefighters has failed to buckle-up.
These guidelines should cover the operation of all department apparatus and personal vehicles used for emergency response.
Many states have traffic laws that include a "due regard or diligence" clause that reinforces the requirement for both the driver of an emergency vehicle and the officer in charge (OIC) to act with a sense of caution as they approach other vehicles in traffic.
Initial apparatus driving training and education
In addition, most states have mandatory training, such as an Emergency Vehicle Operator's Course (EVOC) that stresses driver safety, within their Firefighter I or Firefighter II training requirements. Over and above those requirements, some state training academies now offer courses using state-of-the-art driving simulators that can add a new dimension of realism to this training.
The initial EVOC should include a minimum of four hours in the classroom on the departments SOGs, including the legal aspects of vehicle operations, and defensive driving that includes vehicle dynamics (e.g., stopping distances).
The probationary firefighter needs to successfully pass a written test on these topics before continuing on to a suggested 10 hours of driving the various types of emergency vehicles, starting with the smallest and working up to larger vehicles (e.g., water tenders, rescues or engines). A final road test should be given by a separate instructor using established criteria to impartially evaluate the driver candidate.
Aerial truck operators should undergo a separate process that includes not only driving, but also set-up for stabilizing the vehicle before deploying the aerial ladder; and safety considerations (e.g., overhead wires, ladder angles and tip loads).
Continuous apparatus operation training and evaluation
In addition to the initial EVOC for new emergency vehicle operators, veteran drivers should have an annual classroom refresher, followed by a behind-the-wheel obstacle course that includes backing into a limited space.
Drivers who have been off-duty for more than six months due to a leave of absence, illness or injury should undergo this refresher training before returning to full driver status.
Departments should also conduct an annual driver's license check, looking back at least three years. Drivers with two minor violations (e.g., speeding, illegal lane change or a chargeable accident) should be given a warning letter indicating that another infraction within the same three-year period will result in a loss of driving privileges for emergency vehicles.
Major traffic violations (e.g., driving under the influence of alcohol or drugs, reckless operation or vehicular homicide/assault) should result in an immediate suspension of driving privileges.
Pre-emptive traffic systems
No matter how effective a pre-emptive traffic system may be in your jurisdiction, apparatus operators must always consider the unknown. Sometimes, civilian drivers panic. Sometimes, individuals believe the siren may be in response to something they've done. In either case, these drivers may, at the last minute, speed through an intersection directly into the path of an emergency vehicle.
Even after being assured that your apparatus has captured the pre-emption system, it is advisable to slow down and be ready for the unknown at any intersection.
Fire apparatus accident investigation
Every accident involving emergency vehicles that causes damage – no matter how seemingly insignificant – should be investigated. At minimum, statements need to be taken from the operator and the officer in command of the apparatus, along with a police report when warranted. Results of the accident investigation should become a part of those individuals' personnel records.
If an accident also involves a private vehicle or pedestrian, no matter who may appear at fault, many legal counsels recommend that the operator should be sent for a blood test to screen for alcohol or drug use.
Check with your department attorney first, but these steps will help demonstrate a proactive defense in the event of a serious crash. A proactive defense, paired with safe driving practices, illustrates a pattern within your department that confirms a culture of safe apparatus operation.
Safe driving programs are designed to save you and your crew from injury or death, and allow everyone to go home – the premise of all our 16 Firefighter Life Safety Initiatives.
Stay safe!
Next: Watch Chief Goldfeder tackle the issue of speeding engineers.