A recipe for success: How 2 chiefs earned IAFC's Fire Chief of the Year award
Chiefs John Buckman and Bill Peterson talk about the importance of working hard, paying it forward, and remaining passionate and driven
---
In 1996, the very first career and volunteer Fire Chiefs of the Year were selected.
The International Association of Fire Chiefs Fire Chief of the Year award, presented annually by the IAFC and Pierce Manufacturing at the general session of Fire-Rescue International, honors one career and one volunteer fire chief for their leadership, innovation, professional development, integrity, service to the public and contributions to the fire service.
Fire Chief John Buckman, FireRescue1 and Fire Chief columnist and editorial board member, received the first Volunteer Fire Chief of the Year award. Chief Buckman retired in 2012, after serving 35 years as chief for the German Township (Indiana) Volunteer Fire Department.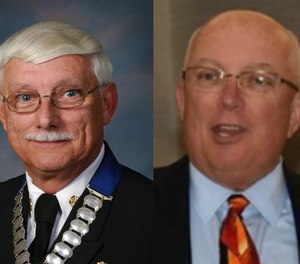 The award, Buckman says, should be given based on a chief's personal commitment to excellence. And Chief Bill Peterson, who won the 2000 award for Career Fire Chief of the Year, couldn't agree more.
Peterson, who served as chief for Plano (Texas) Fire-Rescue, had been chief for 19 years when he received the award. The responsibility that came with the recognition as a chief of the year, Peterson says, was tremendous.
"I felt that others would look to me as a role model, whether it be from members of the department, peer department heads and other fire chiefs, the community and, most important, my family, who had personally witnessed the hard work and sometimes personal sacrifices that I had to make in my career up to that point," Peterson said.
I interviewed Chiefs Buckman and Peterson and asked what advice they would give to this year's Fire Chief of the Year award winners and what they believe to be the recipe for Fire Chief of the Year success.
What was your reaction upon learning that you were selected as Fire Chief of the Year?
Chief Buckman: First of all, I did not know there was such an award — because there wasn't. The Fire Chief Magazine editorial advisory board selected the award recipients without nominations. I knew one or two of those board members, but not very well. I was floored when I got the phone call from Scott Baltic, the editor of Fire Chief Magazine.
Chief Peterson: As I recall, I went through a quick series of reactions when notified that I was named Career Chief of the Year. The first was shock and surprise, because I was not even aware that I had been nominated. The second was in quick succession — I was deeply humbled to know that I was being recognized for what I saw as being blessed for the opportunity to do what I looked forward to doing every day — helping others to be as safe as possible in dealing with day-to-day life safety risks from a wide variety of hazards and situations.
What made you stand out from the other nominees?
Chief Buckman: I was writing a lot of volunteer articles for the International Society of Fire Service Instructors and Fire Engineering Magazine. I was also involved with the International Association of Fire Chiefs. I attended most every IAFC board meeting for several years at my fire department's expense.
It was that level of commitment that was necessary to raise the standing of the volunteer fire service in the eyes of the IAFC board members. I sat around the outside wall and took a lot of notes and spoke up when I believed there was an issue that impacted the volunteer fire service.
I co-founded the IAFC's Volunteer and Combination Officers Section. Over 200 members signed up in 1994 to join the section. We quickly became the largest section in the IAFC.
Chief Peterson: That's a difficult question to answer, because I don't have any idea of how many or who the other nominees were that year.
I have to assume that my passion for continuous improvement, whether it was making the fire department better able to meet the needs and expectations of our community, or my work with the National Fire Protection Association to develop firefighter safety standards, or my involvement with the Institution of Fire Engineers to share fire protection best practices through serving as the U.S. Secretariat for the United Kingdom – U.S. Fire Service Symposium. For all of my time in the career fire service (plus the previous 10 years as a volunteer in the community where I grew up), I was deeply engaged in the professional development of myself and the national and international fire service.
What advice would you give to this year's Career and Volunteer Fire Chiefs of the Year?
Chief Buckman: Pay it forward. You did not receive this award because you alone accomplished all of the information in your nomination packet. Mentor the young. Open the door for others so they can have the opportunities you have been given.
Chief Peterson: I would tell them to not look at the award as a career destination. See it as a validation of your career goals and passion for the fire service and reach for higher achievements. I have always told my fire department members that progress in the fire service is like walking up a "down" escalator. If you are not always moving forward, then you are falling behind. The world that we live in is rapidly changing and it takes a dedicated and focused professional to remain in a leadership position.
For those who aspire to win such a prestigious award, what do you believe to be the recipe for Chief of the Year success?
Chief Buckman: Work hard. Have the courage to step out of line — to stick your neck out and create the future you believe in.
Chief Peterson: An individual has to view being a fire chief just as a new chapter in their fire service career. If someone sees being a fire chief as a career destination, then they will never be seen as a viable Chief of the Year.
To be considered a viable candidate, they must take their passion and drive for continuous improvement and engage challenges, not only in their individual fire department, but also in the regional or state fire chief's organization on the national fire service level or in the international fire service environment.
If you would like to nominate someone for Fire Chief of the Year, use the online form to submit your nomination today. Questions? Contact Firechiefaward@iafc.org.