Being chief: It's not a popularity contest!
Making tough decisions – and pushing for change – is your responsibility, even when it doesn't win you any fans
---
As we reflect on the Worcester Cold Storage and Warehouse fire 20 years later, including the sacrifices of the Worcester 6 and the many lessons learned to emerge from this incident, I also want to reflect on the sometimes-confusing struggle to make a difference in the fire service.
The struggle is often compounded by chiefs wanting to be liked. But being chief is not a popularity contest.
No single action personifies this statement more than Worcester District Chief Michael McNamee standing in the doorway of the Cold Storage and Warehouse Co. building, ordering other firefighters to stand down from any rescue attempt. His leadership at that moment, while unpopular with the troops at the time, undoubtedly saved many more lives.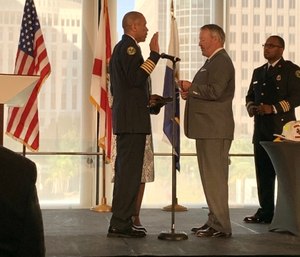 But this article isn't about Worcester; it's about a call to leadership.
Your responsibility includes making a difference
Chiefs, your opportunity and your responsibility go well beyond a title. I hear what I'll call "the bemoaning of the fire service" as loud and clear as everyone else. Members complain about "volunteerism on decline" or that "EMS is killing us," and many use the all-too-familiar sentence-starter, "Back when I was a volunteer …." And then there's my new favorite: "Recertification will cost us and 'kill' us."
What are YOU doing to make a difference in any of these areas?
With some of these issues, there are contributing factors that are clearly outside your purview – and you certainly don't have a magic wand to wave the problems away. But there are some things you can do to make incremental differences.
Take action and demonstrate responsibility
You CAN take steps to create a culture of inclusion by embracing and managing change instead of fighting it. Find a way to make your applications easy to obtain and submit, and your processes thorough yet transparent. I recall dozens of people over the years who told me, "I tried to fill out the application, but …." "I went by the fire station, but nobody was there and there was no information to pick up," or "I gave the application to the chief two months ago but haven't heard anything from anybody."
If you don't have an online application that can be instantly emailed to an appropriate party, you are losing opportunities. In my case, the vendor wants an exorbitant amount of money to create the backend to manage an online volunteer application – and the County does not currently have an online application process to piggyback. But I'm working on it to get us online eventually. And that's the point: Don't give up because of one roadblock. Keep pushing! Do something – anything – to advance the process!
You CAN connect with high school juniors and seniors during job fairs and similar events. But you must make the effort. Don't show up in blue jeans and a tank top. Wear the uniform, pressed and neat. Bring literature to support your call to action, set up a small video/TV presence to show action-oriented videos and recruitment messages.
All the bemoaning I hear is really just an opportunity to exercise responsibility. And mind you, we're not just talking about responsibility related to programs and missions, but also to your communities and your firefighters, paid or volunteer.
Credentialing and recertification, for example, cannot be some nebulous "nice-to-do" but rather a focused framework. Call it "career development," "credentialing," "recertifying," whatever – there needs to be a better framework for success than exists today.
Overall, the most important responsibility you have is to the people you serve and those who work or volunteer for you. To be successful, the ones who work or volunteer for you need to know the rules of the game – and let's not forget, to be truly impactful, YOU need to live and demonstrate the rules of the game in your personal and professional life.
I submit that we SHOULD be proactive about career development and credentialing. We have received lots of comments about the proposed NFPA changes. In a future article, I'll address the observations made in the comments section of the article or from direct received emails. Just having the discussion and weighing the pros and cons is all part of the process of doing something.
It's your opportunity
As I sat in the audience watching the recent change-of-command ceremony for Orlando Fire Chief Benjamin Barksdale, I was reminded that the oath we take is a solemn responsibility in and of itself. With that oath comes the responsibility to do the right things to make positive differences – differences that you and others will need to embrace and live with.
I fully recognize that there's so much more to worry about than applications and recertification. Yet if we can't get the "little" things right from the start, where will we be when chaos strikes? Chief McNamee's simple declaration, "Look, it's over, no more," is a snapshot of leadership that made a difference.  
Remember, it's not a popularity contest. It is your opportunity and your responsibility. What are YOU doing to make a difference every day?
Editor's Note: How are you pushing for change or working to make a difference at your fire department? Share in the comments below.