Crossing that bridge: Leadership requires action
Problem-solving is crippled when leaders fail to take bold and decisive action
---
So many decisions seem to be dismissed by "crossing that bridge when we come to it." I've been trying to figure out where "that bridge" is for a long time now. Based on how people talk about "that bridge," it must be a pretty scary place.
To use another metaphor, many people seem to avoid problem-solving or decision-making challenges by "kicking the can down the road." Instead of just picking up the can and doing something about it, it seems easier to just keep kicking the can down the road for the next person to handle. But we all know that problems left unattended won't be solved by kicking the can or crossing the bridge later. It's time to get proactive and pick up the can and cross that bridge – now!
I challenge leaders everywhere to take bold and decisive action when necessary to handle problems or issues that come up at their departments. Certainly not every problem and/or issue will require bold and decisive action, but action nonetheless. I haven't seen one problem or issue that solved itself without some positive intervention.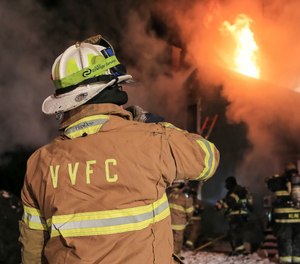 Leadership styles can drive action
The real challenge for chiefs is accepting President Harry S. Truman's mantra "the buck stops here," extolled on a desk plate in the White House. Getting to the buck is the trick. How this applies to problem-solving comes back to organizational structure and leadership styles.
While some will argue this point, I believe that it is OK, if not essential, to be both a theory X and a theory Y leader. Theory X surmises that people generally don't like to work and need to be controlled, while theory Y surmises that people like to work and generally need to be encouraged rather than controlled. Understanding how your organizational structure can operate in both participative and autocratic balance can be difficult, yet manageable, and is necessary for success.
Emergency service leaders, staff and volunteers should accept the paramilitary part of our structure as part of the framework for success. Non-emergency and other volunteer services can operate much longer, if not continuously, in the theory Y and participative world, while emergency services must respect the chain-of-command of an authoritarian structure while recognizing the desire for participative styles.
Whichever leadership style you use or leader you emulate, you didn't become a leader by waiting for other people to cross the bridge. It's time to learn (or to remember, as so many seem to forget) that you will never make everyone happy all the time, so this can't hold you back when making critical decisions.
Managing your leadership style will be critical to not only your own decision-making process, but also to the process employed by those who may or may not follow you across that bridge. I fully recognize that there's a time and a place for everything, and you can't always act and react to every situation at the instant it strikes. But I also recognize that your people won't cross the bridges of life or pick up the cans if all they ever hear from you is "we'll cross that bridge when we come to it." I know I've said it myself plenty of times – we all do it from time to time – but you can't make it the mantra that becomes your fate.
Steps to help cross that bridge
There are a handful of steps that we can all take to help us make progress in decision-making or problem-solving challenges:
Know the mission and the vision: I'm not talking about those long-forgotten wall plaques that theorize some altruistic thought of ticked-off desires. For our purposes, I want you to distill your mission down to one word – SERVICE – and center your vision around values that uphold the highest traditions of public service. Start with trust, honor and ethics/integrity.
Set expectations: You must share your expectations, and that of the department, for performance. Firefighters, paramedics and other staff – paid or volunteer – are not psychics. Left to their own devices, most people will be comfortable on their little island. They won't see any need to cross that bridge or pick up that can if their comfort level is never challenged.
Provide guidance and support: Many of our folks are self-starters, but even the best need assistance from time to time. Abraham Maslow's hierarchy of needs comes to mind here – your folks' most basic needs and the ladder toward success and self-actualization. Most people can't do it alone, so provide the guidance and support to help in problem-solving and decision-making.
Lead by example: Make a decision, plain and simple. It's absolutely appropriate, given our non-emergency tasks, to allow people time to consider their own path, to weigh in with their beliefs and experiences, and to have an opportunity to make their own decisions. But for heaven's sake, at the end of the day, just make a decision. Like black mold behind a leaking sink cabinet, your inability to make decisions will grow a toxic environment that becomes difficult, sometimes impossible, to clean. I've seen more than one house condemned and torn down due to mold. Don't become that condemned chief that's torn down because you couldn't make a decision.
Take action and do the right thing!
Remembering President Truman's "the buck stops here" desk plate provides a basic template for success in your decision-making matrix. It doesn't matter what rank or section you are – fire, EMS, paid, volunteer or a blend and/or combination of any of them – leadership in action will eventually require bold and decisive people.
Are you ready to stop the buck and pick up the can? Are you ready to leave the island and cross that bridge? It's time – time to make a decision, choose your path, and just do the right thing – JDTRT!