For the fire service, the future is now
In order for fire service leaders to see the future, they have to clearly see the present
---
A journalism professor I once had would begin the semester by telling students to imagine they had found a time machine that would take them to the past, but they could only carry one item. What would it be?
The answer, at least back then, was a newspaper, as knowing the future would be the most useful tool for acquiring money or influence.
Knowing the future is about correctly anticipating obstacles and opportunities. Who in the fire service wouldn't want a crystal-clear crystal ball to see what the near- and long-term future holds?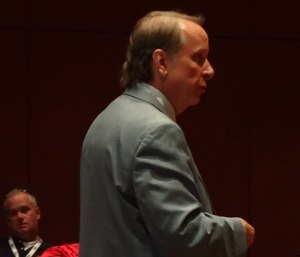 It's something I've found my mind drifting back to often over the past few months — partly due to my participation in the Wingspread VI conference. And it is what drew me to sit in on a seminar at this month's Fire-Rescue International that examined what firefighting may look like in 2025.
John Rukavina, who is director of consulting firm Public Fire Safety Services and past fire chief and director of public safety, led the seminar. Rather than chuck around a bunch of outlandish, "pie in the sky" or hyper-conservative, no-duh predictions, he looked at how we can assess the future by better understanding the present.
Rukavina quoted author William Gibson as saying, "The future has arrived — it's just not evenly distributed yet," to highlight that none of the current or past problems facing the fire service should have come as a surprise.
One example he cited is that mobile phone technology had been around decades before it became an accessory for nearly every adult and child across the world. The barrier that brought these phones to the masses was cost — when the cost came down, the use increased.
The lack of racial and gender diversity in the fire service is another example of present circumstances that were clearly in play in the past — or future circumstances in play in the present. That barrier is awareness and the ability to interpret it's meaning.
Rukavina advises keeping a sharp eye on technological developments with "How can this work in the fire service?" always on your lips. He also said the future of the fire service depends on how we treat our people.
And that's where the rubber really meets the road. We are good at learning and adapting new technology — watching my parents plow around their new smartphones at dinner this week is evidence enough for me.
The real challenge is changing human behavior. Rukavina touched on this by saying he expects the number of future fires to continue to decrease due to technology rather than human behavioral changes. He pointed to the drop in smoking as the only behavioral change to impact the number of fires.
For my money, fire service leaders' ability to recognize and adapt to the population's changing demographics and needs will be key to our successfully delivering emergency services in 2025.
We may never be able to travel back in time with newspaper in hand to lay big money on Secretariat to win the 1973 Kentucky Derby. But we can approach the future armed with today's information for insight into obstacles and opportunities to making a better fire service.