Kansas fire chief who was criticized over safety, work culture stepping down
In his resignation letter, Kansas City Chief Michael Callahan urged crewmembers to keep each other safe and lauded the department for its talent and competency
---
By Matti Gellman
The Kansas City Star
KANSAS CITY, Kan. — Kansas City, Kansas Fire Chief Michael Callahan announced his resignation Friday after serving as the fire department's head for almost five years.
Callahan's last day will be on April 28, according to the resignation letter obtained by The Star.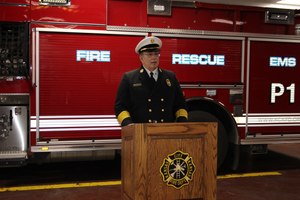 In the letter, Callahan urged Kansas City, Kansas fire crews to continue keeping each other safe and lauded the department for its talent and competency.
"Thank you for allowing me to be a small part of this illustrious department," he wrote.
"I have learned and been taught many things during that time and I hope that you too have learned and been exposed to different ideas and ways of doing our job ... It has been an honor and a privilege to work alongside you."
The resignation marks the fourth reported Wyandotte County department head to resign over the last year. In September, both the Unified Government's economic director and director of development coordination left their post within two days of each other.
Kansas City, Kansas Fire Department referred questions to the Unified Government, which did not immediately respond to requests for comment. Mayor Tyrone Garner declined to comment on the resignation.
Callahan told The Star Friday afternoon that he hopes the department continues to evolve after he's gone. He's happy with the legacy he's leaving, he said, including implementing a policy to respond to collapsing high rise buildings and a defensive fire policy.
According to Callahan, his crowning achievement is that no firefighter responding to a fire he was in command of was seriously injured or killed.
But President JJ Simma of the International Association of Firefighter's Local 64 chapter, which represents Kansas City, Kansas firefighters, disagrees, and told The Star Callahan's resignation will be a "positive step forward" for the department.
The union leader has been critical of Callahan's leadership. In a Friday afternoon phone call he told The Star that Callahan and other leading members of the department have "destroyed morale" and caused serious workforce retention and recruitment issues. Policies and procedures written by Callahan have also put both firefighters and the public's safety in danger, Simma said.
"We're excited and look forward to working with the Unified Government staff, future interim chief and, eventually, future new chief to help the KCKFD progress and right the ship from where we've been over the last few years," he said.
"I'll say this... I do not think we're in a better or more positive place now then before [Callahan] came here."
The fire chief
Callahan first arrived to the Kansas City, Kansas Fire Department in 2018 following a 38-year tenure with the Chicago Fire Department.
His wife had just retired from her job as a police sergeant. Both of them had pensions and were living comfortably when Callahan sat her down and expressed a desire to continue his career in public service.
"I said I think I still have something to offer in the fire service. I'm not quite ready to retire yet," Callahan recalled. But this time he wanted to work in a smaller community, where he thought he could make a difference.
As fire chief, Callahan oversaw 18 fire stations, managing areas from emergency medical services to special operations. He remembered being excited by the kindness of community members and the talent at the Kansas City, Kansas Fire Department.
However, according to Callahan, he inherited a department where people were complacent and lacked discipline.
"Orders are given and orders are followed. Otherwise there's chaos," he said.
He contends that in his five years of service, he never issued an order that was unethical, despite concerns raised by union leaders.
"There's a culture here where people believe if you ask a question, you're disciplining them." he said. "That's not a culture I've ever known in fire service in the 45 years I've been doing this."
Callahan explained that he first came at odds with some union members when he rewrote portions of the 1984 code of conduct and changed protocols involving discipline within the department.
He believes his leadership team should be remembered for promoting high ranking Black and Hispanic firefighters, though the administration has been accused of retaliating against employees reporting racial discrimination in a previous lawsuit.
"I do not retaliate against anyone," he told The Star in response to the accusations.
He hopes he is remembered for providing more money to firefighters recruited to the service with a degree and increasing access to educational resources, such as additional training.
"Did I change things when I got here? Absolutely. Did they need to be changed? Absolutely."
"There's a saying that goes 'Just because you can do something doesn't mean that you should'... But there's a corollary to that a lot of people don't know... Just because you haven't done something doesn't mean that you shouldn't."
'Bullying' and 'No confidence'
Callahan's time in leadership did not come without controversy.
The IAFF's Local 64 chapter, which represents Kansas City, Kansas firefighters, penned a December 2021 letter to former Mayor David Alvey and the Unified Goverment's Board of Commissioners asking for the "immediate removal" of Callahan due to alleged "bullying tactics" and the department's alleged mismanaged response to the COVID-19 pandemic.
The union also issued a vote of "no confidence" in Callahan on January 2021. A letter announcing the vote added that Callahan's "vindictive personality," had been a distraction to the members of the fire department and called for an independent investigation into both the chief and deputy chief Jack Andrade.
Callahan was accused of retaliating against his employees in a June 2022 letter, where the national firefighter's union threatened legal action if Mayor Tyrone Garner failed to "rectify the problems" within the department.
In the letter, president of the organization Edward A. Kelly cited concerns over "unanswered HR complaints, multiple discrimination allegations against department leadership... and reckless policy decisions that put both the public and firefighters at unnecessary risk."
A 20-year veteran of the department, Leejamahl A. Washington, similarly criticized leadership in a January lawsuit, where he alleged senior officials sought to retaliate against him for raising concerns about discrimination at the department. Over the years, the lawsuit said, Washington had been threatened "repeatedly" for conduct that white employees did without reprimand. Near the beginning of his tenure, Washington said, he once saw co-workers wear "Nazi memorabilia" in a break room, and found a noose hanging in front of his locker.
Members of the department say the safety and work culture concerns have yet to be rectified.
©2023 The Kansas City Star.
Visit kansascity.com.
Distributed by Tribune Content Agency, LLC.
McClatchy-Tribune News Service