Mass. fire chief fired amid ongoing dispute between town officials, volunteer FFs
Rockport Fire Chief James Doyle, who had been with the department for 46 years, was terminated 10 months before he was set to retire
---
Michael Cronin
Gloucester Daily Times, Mass.
ROCKPORT, Mass. — A day after selectmen voted to terminate fire Chief James Doyle, it appears that any plans to fill his post are up in the air.
The Board of Selectmen are expected to discuss the next steps in finding a new fire chief at a future meeting. But it is unclear at what meeting the conversation will occur. A date, time and agenda for the next selectmen meeting has yet to be posted online.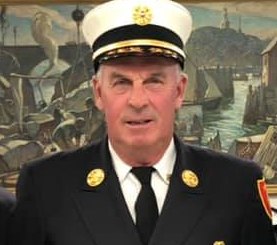 During an emotional public hearing Wednesday evening, attended by nearly 700 viewers online, selectmen voted unanimously to fire Doyle after the town accused him of failing to do his job in a number of ways.
Some offenses stemmed from Doyle allegedly not logging financial transactions for paid fire inspections, leaving these town funds virtually unaccounted for. An audit conducted in October found no money missing, however. Other offenses included failing to complete the application process required to get six Rockport on-call firefighters enrolled at the Massachusetts Firefighting Academy and failing to discipline two subordinates.
Doyle will not receive severance pay, according to the town. He received "just under $40,000" per year for his service as fire chief and chief fire inspector, according to Town Counsel Darren Klein during the hearing.
"At last night's meeting of the Rockport Board of Selectmen, the board voted unanimously to remove James Doyle from his employment with the town," reads a prepared statement by Chairwoman Ruth George, sent to the Times on Thursday. "It was a very difficult situation, one that was particularly divisive in town. However, the board has an obligation to take action in matters such as these, regardless of popular opinion. As stated at the meeting, the decision was not one that any member of the board took pleasure in."
Town Administrator Mitch Vieira was logged on to the hearing as well, but had his camera and microphone shut off the whole time. Town Counsel had advised both Vieira and Assistant Police Chief Mark Schmink not to speak during the meeting due to overlapping matters being litigated against the town.
On Jan. 27, 11 Rockport taxpayers filed a suit in Essex Superior Court alleging top Rockport officials were illegally working behind the scenes to replace the Rockport Fire Department with full-time staff. Vieira and the Board of Selectmen have denied these allegations on numerous occasions.
Since Doyle was first put on leave three months ago, Assistant Chief Kirk Keating has been handling all fire chief duties.
Doyle has worked with the town for 46 years. He was 10 months away from retirement when he was put on administrative leave in mid-November. In December, he was served a letter from the town outlining the charges of misconduct against him and notifying him to attend a hearing with selectmen to discuss his future employment with the town. After numerous delays, the hearing was held nearly two months later.
It was revealed during Wednesday's meeting that Doyle had a "last-chance" agreement with the town due to previous misconduct. In March 2019, he was involved in a verbal altercation with a subordinate during off-hours and off Fire Department property. The agreement stated the town was eligible to fire Doyle at any time for any further misconduct.
In a prepared statement delivered at the end of the meeting, Selectwoman Sarah Wilkinson alluded to other "discipline actions" that occurred over the years that "culminated" in the last-chance agreement.
"I personally have received multiple complaints over the years about the chief's behavior and actions going back over at least seven years," Wilkinson said. "The complaints included doing personal work on town time, using town vehicles for his own personal business, not following town policies while on town time, double-dipping in working his own personal business while being paid by the town, (and) mistreating those who report to him."
The last-chance agreement also stated if Doyle committed another fireable offense, he could not challenge the Board of Selectmen's decision to terminate him unless he were falsely accused. Klein said Wednesday that the hearing was being held as a courtesy due to Doyle's more than four-decade career with the town.
On Thursday, Doyle released his own statement regarding the hearing.
"It has been the honor of my lifetime to serve in and lead the Rockport Fire Department for the better part of my career," it reads. "Every day I have lived in this town, I have thought of how to give back to it — as a volunteer firefighter, as a local businessman, as a Friends of Rockport Athletics member, as a parent and grandparent. Even though I vigorously disagree with the town's actions of the past year and the selectmen's decision tonight, I hold my head high knowing that every day that I put on my uniform I was doing it for this community — and I'm proud of my fellow firefighters who will continue to risk their lives to do the same."
Farrell Smith O'Connell, the law firm representing Doyle during his administrative leave, called selectmen's and Klein's behavior during Wednesday's meeting "an utter disgrace."
"...(It) was precisely why Chief Jimmy Doyle demanded it be held in an open and public session," reads a press release from the firm on Thursday. "Instead of quietly retiring, like the selectmen wanted, Jimmy knew the only way to protect his reputation and the future of the Rockport Volunteer Fire Department was to let the public watch what really goes on at Town Hall... The selectmen, taking advice from the same attorney, would not even entertain any legal objections to last night's meeting: Open Meeting Law notice violation, Town Counsel conflict issues, and a series of allegations that were all fruit from the same poisonous tree."
The "Open Meeting Law notice violation" refers to a small controversy that occurred hours before the meeting was scheduled to start. On Tuesday, the town changed the hearing's Zoom URL link on its website. In a press release issued later in the day, the law firm claimed this sudden change will not allow for a "free and open hearing" as it does not provide "adequate public notice in accordance with both the Open Meeting Law..."
The town has denied any wrongdoing in regards to the hearing's updated Zoom link.
"Just as with in-person meetings, sometimes the meeting location needs to be changed, whether to accommodate larger gatherings or where, as here, to address technological issues," said Vieira Tuesday. "When this occurs, we take the necessary steps to update meeting notices accordingly. The town complied with the Open Meeting Law by posting the amended agenda with the correct link as soon as it was changed, which is accessible to any member of the public on the town's website and posted in the rear vestibule of Town Hall."
When contacted on Thursday, Vieira declined to comment for this story.
___
(c)2021 the Gloucester Daily Times (Gloucester, Mass.)
McClatchy-Tribune News Service