Nev. chief resigns days after being hired
Sparks officials cited "serious criminal charges" that were about to be filed against Mark Lawson
---
By Leila Merrill
FireRescue1
SPARKS, Nev. — Sparks Fire Chief Mark Lawson resigned less than a week after being hired.
"I am here with terrible bad horrible news," city manager Neil Krutz said Monday in a video message to Sparks Fire Department employees.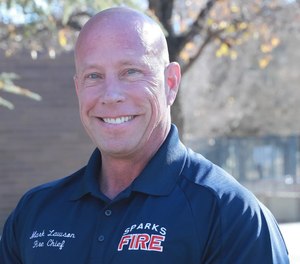 The Reno Gazette-Journal reported that the city found out late last week that "serious criminal charges" were about to be filed against Lawson. So far, the specific charges have not been announced.
Krutz asked Lawson to resign, and he did.
Community relations manager Julie Duewel said that "we have two division chiefs alternating in the position until the new chief is hired."
Lawson previously was an assistant chief/division chief of operations for the CAL FIRE Madera-Mariposa-Merced Unit and has 32 years of experience in the fire service.