NM fire chief-EMT responded to fatal crash that killed his daughter
Fire Chief Pedro Cruz responded to the vehicle crash that killed country singer Kylie Rae Harris and his 16-year-old daughter
---
By News Staff
TAOS COUNTY, N.M. — A volunteer fire chief and EMT with the San Cristobal Fire responded to the collision that killed country singer Kylie Rae Harris and his 16-year-old daughter, Maria Elena Cruz.
According to Fox News, Fire Chief Pedro Cruz responded to the call in Taos County of a multiple-vehicle crash and found that his daughter was involved in the fatal incident.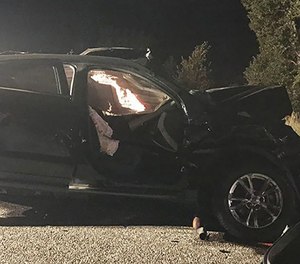 "He's also an EMT, so he's no stranger to going out on calls – both medical, crashes and other things,  but very traumatic for him to not know but to respond anyway and then find it was his family member," Taos County Sheriff Jerry Hogrefe said.
Maria Cruz and Harris were pronounced dead at the scene. Hogrefe noted Cruz was an "innocent victim" in the crash. 
A memorial was set up at the Taos High School where Cruz attended as a sophomore. Community members also held a benefit to raise money for the family last week.
"They just want the community to remember their daughter, Maria Elena, as kind, loving and caring – wonderful daughter, wonderful sister, and a just kind-hearted soul," Taos County Fire Chief Mike Cordova said.
Video by Fox News