Texas union votes to censure chief
The union's grievances against the chief included the use of harsh punishments and failure to improve station facilities
---
By Katie Hall
The Austin American-Statesman
AUSTIN, Texas — For the second time in two years, the city's firefighter union has voted to censure Austin Fire Chief Rhoda Mae Kerr.
The Austin chapter of the International Association of Fire Fighters held Thursday a vote of censure against Kerr over proposed policies pertaining to employees' physical qualifications, recent reprimands and sought-after fire station upgrades.
In total, 490 Austin firefighters out of the 563 who voted expressed their disapproval of Kerr. The city's firefighter union has about a thousand members, officials said.
The censure is somewhat symbolic. The union has no authority to recommend Kerr's termination or to put anything on record in her personnel file. However, the International Association of Fire Fighters will decide during its convention next month whether it wants to support the Austin chapter's vote of censure.
In 2014, the entire International Association of Fire Fighters voted in favor of censuring her. That resolution criticized Kerr over the Austin Fire Department's hiring process, which led to a U.S. Department of Justice investigation into discrimination allegations. That issue was not brought up in Thursday's vote.
"We mean for this new censure to be more publicly discussed and the pressure continually maintained until our reasonable requests are satisfied, hopefully at the bargaining table," union president Bob Nicks wrote in a letter to union members last week. More than 95 percent of Austin firefighters are union members, Nicks said.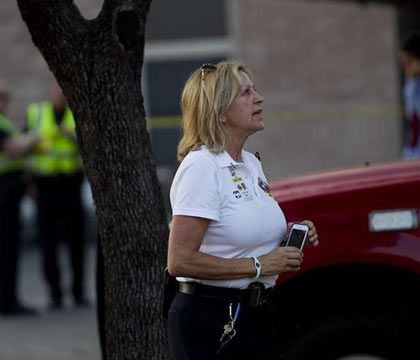 Both Kerr and Austin city officials declined to comment Thursday evening, though they said they may comment on the vote Friday.
The vote listed four grievances. First, union members disagreed with a policy they say Kerr is considering adopting that would require all firefighters and fire officials, including those working desk jobs, to be physically qualified to work at a fire scene. Union members fear the policy would prohibit an injured firefighter from seeking a desk job at the Austin Fire Department while he or she recovers.
"Firefighting is physically demanding, so the potential for serious injuries is high," the censure item reads. "To perform at their highest level, firefighters need to know that the fire chief and the leadership of this organization have a better plan for them than termination if they suffer a serious injury."
The second grievance expresses dissatisfaction with the fire department's Professional Standards Office, which serves as its version of Internal Affairs and investigates complaints against firefighters and fire officials. The third grievance argues that Kerr has imposed overly harsh punishments when officials are accused of violating policy, with no ability to appeal the accusation to the Civil Service Commission. Most suspensions were 15 days or less under the previous chief, but Kerr has suspended officers for 16 to 90 days with no right of appeal, the grievance says.
"She's very harsh to the members as far as punishment, and she's very aggressive in the ways she tramples on our civil service rights," Nicks said in an interview. "It affects our work conditions greatly."
The final grievance says Kerr has not worked to improve fire station bathrooms in a timely manner, even though the work can be paid for with a bond that voters approved in 2012.
"In her capacity as fire chief, Chief Kerr has failed to get equitable facilities for her firefighters' most basic needs," an Austin fire facilities committee wrote in a letter to the union. "These phases started with great fanfare, but under Chief Kerr's leadership the project has limped along with little forward progress."
Copyright 2016 Austin American-Statesman