Union: Chief should take random drug tests with responders
The union said firefighters and paramedics would be more willing to sign a contract that requires drug testing if the chief agrees to be tested as well
---
By FireRescue1 Staff
TAMPA, Fla. — A union is debating a new contract for firefighters and paramedics that requires random drug testing for the first time, and said it would help if the fire chief was subjected to the tests as well.
Tampa Bay Times reported that the Hillsborough County firefighters and paramedics are set to vote on a new contract, and International Association of Firefighters Local 2294 president Derrik Ryan said Hillsborough County Fire Rescue Chief Dennis Jones agreeing to the drug tests may help in their decision to approve it.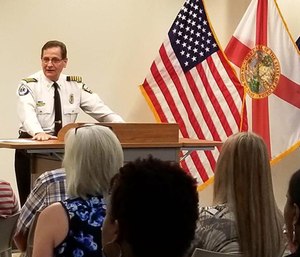 "I can tell you this: it would not hurt," Ryan said. "Certainly we have other issues, morale issues, besides drug testing here. But that certainly would not hurt if they fall in line and do this drug test with us."
The county shot down the idea of leadership being drug tested because their positions are not covered by the collective bargaining agreement.
"Human nature would say if you're demanding for us to do something different than we have ever done before when it comes to drug testing, why wouldn't you do it with us?" Ryan said.
The contract comes after drug testing procedures for first responders in the county were determined in an investigation to be much more lenient than other Florida departments. Responders are not tested for alcohol, and they know when the drug tests are coming.
The new contract would ban the use of illegal drugs and mandate that five employees be randomly drug tested every other week.
"The most effective way to curtail drug use in any organization is a random process and what we had was not," Chief Jones said.