Cultural Change: Just Do It
Editor's note: In the coming months, Billy Hayes will outline the 16 Firefighter Life Safety Initiatives and how you can apply them to your department. This column will discuss the first of the Initiatives: Define and advocate the need for a cultural change within the fire service relating to safety, incorporating leadership, management, supervision, accountability, and personal responsibility.
Have your say in the member comments section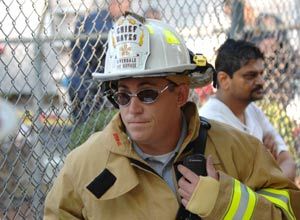 Photo courtesy of Billy Hayes
As the then chief of Riverdale, Ga., Fire Services, Billy Hayes works at the command post of a motel fire that killed five people last year.
I've heard it said many times that if we could accomplish the Initiative concerning cultural change, the remaining 15 wouldn't be necessary. After spending a lot of time with the Everyone Goes Home® program, I'm not so sure I believe that is completely true. As with any plan, there are benchmarks and/or steps along the way to reach the desired outcome. Perhaps I can suggest that a cultural change is the starting point, and there are 15 other Initiatives that are the remaining necessary steps needed to reduce firefighter injuries and LODDs.
So how do we discuss this first initiative? Let us begin by trying to define what culture is this instance.
For me, culture gives rise to values — and those values in turn give rise to situational norms. Situational norms in turn give validation of the beliefs from which the norms originated. This closed circuit of values, norms and beliefs is the process of cultural development.
Simply put, the way things get done over a period of time without distinction between right and wrong becomes the way things are done, period. Sayings such as "It's always been done this way," or "If it ain't broke, why fix it?" can be commonplace.
Monkeys in a cage
Ever heard of the monkeys in a cage description of culture? I picked it up a couple years ago from a class I was attending and I have never forgotten it. I haven't found out who the author or creator was, so excuse me for borrowing the material.
A group of scientists put five monkeys in a cage. In the center of the cage was a step ladder, and a banana was hung from the very top. The monkeys scurried up the ladder to retrieve the banana and then the scientists sprayed them with freezing cold water to prevent them from reaching it. Each time they tried to go up the ladder, they were again sprayed until none of the monkeys went up the ladder.
The scientists removed one monkey from the cage and replaced it with a new monkey. The new monkey saw the banana, saw the ladder and attempted to go up. The four original monkeys, afraid of being sprayed with water, assaulted the new guy to prevent him from going up the ladder. He had no idea why he was being attacked but he didn't go up the ladder again.
A second original monkey was removed from the cage and replaced with a new one. Same thing: the new monkey attempts to go up the ladder to retrieve the banana, and once again, this newest monkey is assaulted. Except this time, the first new monkey takes part in the beating of the newest monkey. He has no idea why he is participating in the beating, but nevertheless it happened to him.
This process of bringing in new monkeys continues until there are no original ones in the cage that were sprayed with cold water. But no monkey in this now completely new group dares go up the ladder out of fear of being assaulted, not sprayed with cold water. Does this sound a little like fire department culture? Again, it's always been done this way!
Are there fire departments in our country today that operate in a similar manner? We may not be sure if the way we are doing things is right or wrong, but because it's always been done this way, we are afraid to change.
Do we have fire crews pull booster lines on structure fires because we've put out a lot of fire and been accidentally successful?YES
Do we have firefighters who don't wear seat belts because they have never been involved and/or injured in an apparatus collision?YES
Do we have fire chiefs who do not pay critical attention to the needs of their firefighters and the conditions they operate under because they have never lost a firefighter on their watch?YES
Do we have individuals in company officer positions who are not adequately trained to serve in the position but accept it as they are afraid to turn it down out of fear of not being promoted in the future?YES
Do we have fireground commanders who do not always know where their fire crews are operating or have true accountability, but believe they do because personnel tags are in the front seat of the command vehicle? YES
Do we have fire service members who do not exercise and get physicals because they have never had medical problems previously?YES
Each of these questions directly relate to Initiative #1 and more specifically culture. But, these aren't examples I just made up. These are the statements and stories I've experienced from various fire service members I've met.

Culture is another word for laziness or for those who don't possess the leadership skills to make change.

Now keep in mind my columns are based on my beliefs and from my experiences as I've travelled and presented in various settings. In no way am I broadly painting every fire service organization as operating this way. In fact, there are many fire service organizations that have begun to make a culture change to prevent firefighter injuries and firefighter LODDs.
I learned of a department (which I haven't pinpointed yet) in North Carolina that conducts exterior operations if full life safety and accountability exists; meaning family at the meeting place tells the arriving company officer, "We are all out and safe." If this happens, the tactics then transition to exterior. Now whether this is until fire is under control and conditions are conducive to enter, dependent on involvement, etc., I do not know. What I do know is the department is aware that its incoming resources are limited and firefighter safety over property conservation takes precedence. Some may not agree with this measure. Nevertheless, this is a bold move that other departments are beginning to implement.
Just a few days ago I was on the campus of the National Fire Academy in Emmitsburg, Md., with Dr. Burt Clark for the presentation of certificates to several departments in the Frederick County area of the state for achieving 100 percent signatures on the Brian Hunton National Seat Belt Pledge. As we stood in front of the National Fallen Firefighters Memorial bearing all the names of our fallen brothers and sisters, I thought about the words I was going to say. It struck me that the philosophy that the fire service should adopt when it comes to firefighter safety can be found in Nike's slogan: Just Do It.
Maybe that's how we should approach Initiative 1. Just do it. Despite the culture, despite tradition, despite how hard it is, or despite of whether it's not the popular thing to do or say, just do it. I'm not big on continuing to beat culture in the ground. Honestly, I think culture is too easy to blame for our problems. Culture is another word for laziness or for those who don't possess the leadership skills to make change. Be responsible, be accountable, be safe, and just do it.