Fla. county expected to increase fire fee
That increase would bring an additional $1 million to the county for fire services
---
John Chambliss
The Ledger, Lakeland, Fla.
BARTOW, Fla. — County commissioners had already planned to increase fire fees by $10 for homeowners before an inquiry into a fatal fire in North Lakeland.
But since the report's release in May called for numerous, costly changes, the fee is now expected to increase by $15.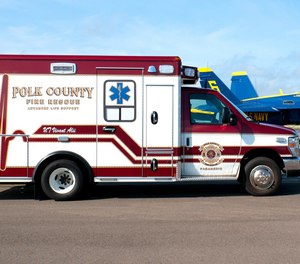 That increase would bring an additional $1 million to the county for fire services. The fire fee for residents in unincorporated Polk is expected to increase from $191 to $206.
The fire department has faced much criticism this year after a 76-year-old woman died in a burning home on Rockridge Road in North Lakeland on Nov. 23.
A critical report found numerous problems in the department and a number of errors that occurred during the response to the fire that killed Lorretta Pickard.
On Monday during an agenda study, Polk County Fire Rescue Interim Chief Robert Weech told commissioners about 10 findings by Emergency Services Consulting International that would lead to $8.9 million in costs.
Some of the expenses include:
• $300,000 recurring expense for a 40-hour officer development class for captains, battalion chiefs and officer candidates.
• $400,000 to work with the Polk County Sheriff's Office to develop and institute a process to expand a pre-alert system then upgrade the system.
• $200,000 to research and install digital media platforms and hardware for each station, similar to the Sheriff's Office.
• $2 million recurring expense to create a minimum staffing of three firefighters on each engine.
• $2.6 million recurring expense to staff all water tenders with driver engineers.
• $2.2 million expense to purchase five tenders.
County Commissioner George Lindsey said Thursday that commissioners told Weech to use the $1 million to address the items he feels are most critical.
The biggest expense in the list of recommendations by the consulting group was a $10 to $25 million training facility. Lindsey said that expense would need to come at a later date. In the meantime, the department plans to renovate an old boot camp facility used by the Sheriff's Office into a temporary facility.
"It's going to be a multi-year process to address these issues," Lindsey said.
John Chambliss can be reached at john.chambliss@theledger.com or 863-802-7588.
———
©2019 The Ledger (Lakeland, Fla.)
McClatchy-Tribune News Service