'It's time to allow the hungry, smart wave of today's firefighters to do the job'
Embrace them and thank them, then get on the ball and teach them
---
Our department is currently in the process of trying to purchase a new engine. We are in the plenary stages, and the apparatus committee has been knee-deep in discussions, making sure we balance our needs versus wants while also keeping it within our budget. They are going through the entire truck, nuts to engine, diamond plate to lights.
The question was posed: Why are we getting a new truck? Sure, it's old, but it works just fine. The answer: It's pushing 30 years old, has logged a lot of miles and hours, and just doesn't fit the needs of our community anymore. Bottom line: We need to bring our apparatus up to speed for what we need now.
This seems logical enough. Considering recent technological advancements, the apparatus simply can't grow, can't expand, can't become what we need. The engine works, as does the pump, it carries the hose we need, but anything more than that is just not what we need to best serve our community.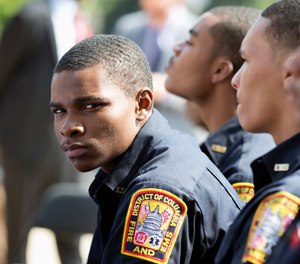 This begins the arduous task of determining what we do need, with a few wants thrown in the mix. And, naturally, the "should it be's" began, as did the "what abouts?" And there was a healthy dose of "what I would do's" thrown out there, too. The committee is comprised of very smart, experienced and nuanced firefighters. They have experience in both paid and volunteer departments, small towns and a big city. I have no doubt that they will find and create exactly what we need. I just hope they make room for a coffee pot.
I have wondered, though, this fire truck was the crème de la crème of its time. It was advanced and had everything other departments dreamed they could have. The lights, the tank, the pump, the chassis, the space. So what happened?
Why, at 30 years old, in good working condition, is this piece of apparatus going to the boneyard? Do we think we are too good for it? Are we trying to keep up with the Joneses? Are we entranced by what else is out there and simply want something new? After all, do we take a firefighter of 30 years and simply show them the door? They are the salty handlebar-mustache gods. We lean on them for their experience, their guidance, mentorship, wisdom. We include them on all decisions – and exclude them from TikTok.
Sometimes, we do need to move on from what's now or even what's good enough so that we can adopt and embrace what's better for the greater good, whether that's a fire apparatus or an organizational structure or even leadership.
We forget that as time marches on, we become set in our ways and miss opportunities to grow. We become comfortable and think we know it all. New ideas are dismissed as change for change's sake. This couldn't be further from the truth. Change happens, and it makes us better, more informed and ready for today's challenges, with a leg up on tomorrow's challenges.
Constant evolution
Normally when asked "Who invented the fire service?" we are quick to credit Ben Franklin, which would be correct if the question was who brought the fire service to the United States. In reality, the fire service dates back to Augustus Caesar some 2,000 years ago – and the fire service has been evolving ever since.
Centuries ago, shopkeepers could pay to have their stores extinguished in the event of fire, and buckets would be brought through town to put the fire out. Horse-drawn manual pumps were actually introduced throughout Europe in the 1600s, and as time went on, smart men and women developed brass couplings and invented leather fire hoses to aid in the distance water could be projected onto a fire.
As the protection service became more common, so too did insurance companies complementing fire brigades with funds for protecting these structures. The buildings were marked and the fire brigade was able to identify that the owner paid for protection. In short order, wood and wool was replaced by metals and synthetic materials, forcing the service into action and develop better solutions for firefighting and protecting its citizens. Horizontal construction went vertical and new, more complex emergencies emerged as new challenges for responders. And in recent years, the merging of EMS and handling issues of short staffing have required a new type of firefighter from years past.
As the service becomes more advanced, so does our equipment. Not only do we need more equipment, we need (or should at least try) to obtain the latest and greatest equipment. That's not to say everything on the market is beneficial, but through the understanding of our response area, our personnel, our capabilities and community requirements, we should be equipped to provide the protection that is expected.
Of course, we also need to train on this equipment. We need to study reports, after-action reviews (AARs), NFPA guidelines, hazmat guides, the newest electric vehicle obstacles – the list seems to be endless. In the absence of experience, training is the most important aspect of our job. We need to be current. Gone are the days of, "We have always done it this way," perhaps the most dangerous mindset in the fire service.
Driving change
There is no doubt that staying current is difficult. The pace at which the world is evolving never seems to slow down. As soon as we understand one building type, a new type of material is introduced. Each vehicle on the road is built with the latest technology and materials. It can feel like information overload.
Our leadership should be driving the effort to finding the latest and greatest training materials for us. They should utilize all their available resources. Their connections at the local, state and federal level must be complemented by today's relevant and vetted internet and social media platforms to maximize reach. There are many legitimate and informative sites with useful content readily available to us. All of this can be accessed within our training halls or classrooms with the simple click of a button. Utilizing our local community colleges or county academies helps ensure that we are not only training to meet our standards but also to ensure we are all on the same page as things change.
The next crop of leaders
I have never been a New England Patriots or Tampa Bay Buccaneers fan, but Tom Brady is arguably the greatest quarterback of all time. You can say it was the system or credit something else. That's fine, and it will be debated for a long time. However, there is something to be said that a person who is 40 years old, playing the game for his entire adult life and makes millions of dollars, still trains and works to improve himself. He makes sure that his team knows he is prepared, he has studied the newest defensive schemes, the best defenders, the fastest corners and edge-rushers. At the same time, his coaches, the rookies and seasoned veterans all try to keep pace. They all try to better, never resting on their laurels.
By bragging "I have seen it all" and not helping share that knowledge, by telling the group "I have done it all before" and not demonstrating your skills so your junior firefighters can see what right looks like, by stating "I learned that 30 years ago" and not seeing how cutting a new electric vehicle is different than a '72 cutlas, we are putting lives in danger. You must stay current, you must continue to sharpen your skills, you must accept that things are changing, and you must appreciate the learning that is occurring, and see that maybe your time has come to step aside. Allow the young members to step up and run the show while you assist, teach, mentor and impart your wisdom when they need it. It's time to allow the hungry, smart wave of today's firefighters to do the job. You are not wrong, you are not irrelevant. However, for many, your passion has gone from action to inaction. Today's younger firefighters are different. Their reasons for volunteering are different. Do we really need to be hung up on the reasons? No. Who cares? They are there and want to do it. Embrace them and thank them, then get on the ball and teach them.
Thirty years ago, the old-timers at your department thought you were different. Today's firefighters need to see it, feel it and understand it. Gone are the days of writing in cursive and memorizing your multiplication tables. You don't have to agree with it, you don't have to like it. Nobody cares. They care if you show up to an emergency on their worst day with the proper equipment, training, education and mindset. Please do not leave, we need you. We want you. We just need you to be open minded and understand that change is happening whether you like it or not. Allow us the opportunities that were given to you. We will make you proud and carry on the proud traditions and work ethic you instilled in us.