Mass. town leaders rescind hiring of deputy chief hours after vote
The reversal came during a raucous meeting as firefighters, town residents and elected officials shouted over one another, bitterly divided over the confirmation
---
Alison Kuznitz
masslive.com
STURBRIDGE, Mass. — Within hours of the controversial hiring of a deputy fire chief, the Sturbridge Board of Selectmen rescinded its vote Monday night.
Vice-Chair Mary Dowling, who had suggested the reversal, said Sturbridge was setting up Jonathan Miller for failure as deputy chief, despite his qualifications to serve as second in command of the beleaguered fire department.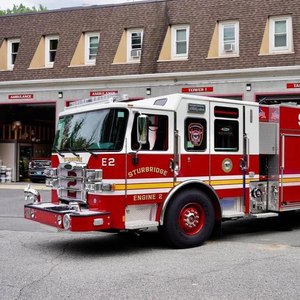 Her comments came amid a raucous meeting as firefighters, town residents and elected officials shouted over one another, bitterly divided over Miller's confirmation.
It was the culmination of months of agitation between the town and fire department, with firefighters in July declaring a vote of no confidence against Chief John A. Grasso Jr.
"We're very broken," Dowling said Monday.
In a 4-1 vote, the board withdrew its confirmation of Miller, opting instead to pursue mediation in order to smooth over the hiring process between the town, fire department and union representatives. If Miller is up for the challenge, Dowling said, he would need to reapply for the deputy chief position.
Board Chair Mary Blanchard, who residents accused of shutting down public comment earlier in the meeting, said the board's recall vote was "unconscionable." She cast the sole dissenting vote, dismissing firefighters' concerns that Miller's hiring was partially based on his friendship with Grasso.
"We went through the process of trying to hire a deputy chief — we have a well-qualified person," Blanchard said. "Friendship doesn't qualify you nor disqualify you for a position."
Miller and Grasso had already left the meeting when the recall vote was taken. Residents still in the meeting room said it was reflective of Grasso's absent leadership style.
James Marks, business agent for Teamsters Local 170 in Worcester, said the Sturbridge Fire Department "has been a disaster" since Grasso took his post in 2017.
"He's been letting the department slowly fall apart," Marks told MassLive, accusing Grasso of studying for the bar exam while on duty, amid the height of the coronavirus pandemic.
Grasso did not respond to a MassLive request for comment last week.
With the no confidence vote against their chief, Marks said, firefighters had difficulty trusting Grasso's role in hiring Miller.
Sturbridge firefighters have long demanded an independent assessment of Miller, Marks said. It's considered standard hiring protocol for fire departments, Marks said, and it could entail a group of retired fire chiefs asking candidates about their command responses in various emergency scenarios.
In a letter sent to the Board of Selectmen Monday morning, Union Steward Matt Bonneau said a faulty hiring process could endanger firefighters and public safety in Sturbridge.
"We believe that the residents of Sturbridge and the members of this department deserve and should expect that an independent assessment will be made of a pool of recruited candidates for the important position of deputy chief," Bonneau said in the letter shared with MassLive.
"If an independent and transparent assessment center is conducted and if Mr. Miller emerges from a thorough process as the top candidate, then the Town, its residents and we can feel assured that the right candidate is hired," the letter continued. "That is all we ask."
At a Board of Selectmen meeting last month, Grasso said the job posting for deputy chief had been widely circulated, including to the International Association of Fire Chiefs.
Candidates had to answer nearly 40 questions about their background and interest in the position, Grasso said. The chief then interviewed finalists before making his recommendation to Town Administrator Jeff Bridges.
Bridges had warned officials that firefighters were threatening to resign due to their "tremendous consternation" over Miller.
Yet for now, no firefighters intend to resign, Marks told MassLive following the meeting Monday.
"I'm not celebrating. I'm just relieved they actually listened," Marks said of the selectmen. "It's sad we got to this point."
©2021 Advance Local Media LLC. 
McClatchy-Tribune News Service