Wash. firefighter's overdose death raises questions about hiring
Public records and interviews show commanders didn't know about Ryan Mueller's history of drug abuse when he was hired
---
By Sean Robinson
The News Tribune
TACOMA, Wash. — Ramsey Mueller dreamed of saving others, but he couldn't save himself.
A year ago, he took the first steps toward his lifelong dream of becoming a Tacoma firefighter. Seven months later, he died in his Tacoma home of a heroin overdose at the age of 27, a day after resigning from the department, two days after coming late to a morning shift, slurring his words and nearly hitting another vehicle while briefly taking the wheel of a firetruck.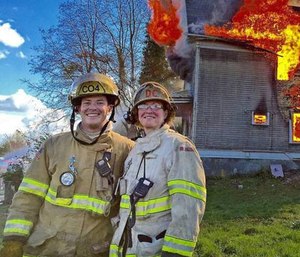 His mother, Deputy Fire Chief Faith Mueller, a 24-year veteran of the department, found her son's body — a moment of anguish underscored by prior loss. Both of her boys were gone. The oldest, Brandon, died in 2008 in a swimming accident.
Ramsey Mueller worked other jobs before applying to the Tacoma department — fishing in Alaska, laying cement — but firefighting, his mother's calling, the stuff of dinner-table talk, was always his goal.
Those who knew him — co-workers and commanders — say he was on his way to success, thriving in training, meeting and exceeding performance standards. They didn't know he kept a dark secret. He was a decadelong drug addict, yoked to a pair of demons: methamphetamine and heroin. Multiple attempts at rehabilitation and recovery failed.
Though Mueller was never convicted of a felony, public records reveal multiple encounters with police tied to his drug abuse, including two incidents in 2015, less than a year before he was hired.
One, a January 2015 incident in University Place, led to Mueller's hospitalization. It took four police officers and a medical team to subdue him.
The second incident, a June 2015 arrest in California, involved a confessed meth binge and Mueller's admission of injecting heroin into his neck. It led to a misdemeanor drug use charge, a missed court appearance and an arrest warrant.
The warrant was still active and known to the department when Mueller was conditionally offered a job as a Tacoma firefighter five months later.
The department's hiring system and policies, including a criminal background check, didn't capture the underlying details of those incidents.
Commanders, including Chief James Duggan, knew little about them until after Mueller died — but they also didn't try to find out, despite knowledge that could have prompted tougher questions and prevented the risky hire of a first responder tasked with saving lives.
"Independent of the systems we have in place, throughout the department there's an understanding that we have to have the public's trust," Duggan said. "We go into people's homes. The public trust is very important to us."
In some respects, the hiring process, designed to encourage workforce diversity and promote second chances, discouraged deeper scrutiny that might have revealed the depths of Mueller's problems. But internal decisions not to seek further information played an equal if not greater role.
Public records and interviews show commanders didn't know about Mueller's history of drug abuse when he was hired —in part because he didn't tell them, in part because the background check system didn't capture specific details of police contacts and finally because department leaders, following what they say is formal policy, didn't ask.
Further, Faith Mueller, one of the department's top-level commanders, didn't disclose her knowledge of her son's history to Duggan, who made the final hiring decision. Conversely, Duggan had hints of red flags, but didn't pursue them.
Ramsey Mueller's death and the aftermath have prompted soul-searching among department leaders, including Duggan, who said he plans to re-examine the department's hiring system.
Public records and interviews provide the basis for this story. The News Tribune spoke to Duggan and Deputy Chief Tory Green in two lengthy interviews. Faith Mueller declined multiple requests for an interview and an offer to review this story before publication.
EARLY SIGNALS
Precisely when his addiction began is unclear, but one early signal came in 2004 on Halloween night in Fircrest, when 15-year-old Ramsey Mueller was arrested in a neighbor's backyard, carrying a bag of cocaine.
The case was referred to juvenile court, where Mueller was charged with drug possession. He received a routine diversion to drug court, which required proof of drug-free behavior and participation in a drug treatment program. He complied, and the charge was dismissed a year later.
The incident was Mueller's first known encounter with law enforcement in connection with substance abuse. It wouldn't be the last.
In 2007, at age 18, he was stopped by Milton police, who caught him in a car with liquor and charged him as a minor in possession of alcohol.
The case led to a deferred prosecution and a dismissal with conditions, including drug- and alcohol-free behavior for two years. Records indicate Mueller complied, and the case eventually was dismissed.
A year later, his older brother Brandon died in a swimming accident in Arizona at the age of 22. Faith Mueller mourned the loss of her oldest son, and Ramsey grieved the death of the big brother he loved.
By summer 2012, Ramsey Mueller was 23. Stray statements on his Facebook page hint that he continued to battle addiction. A friend asked whether he was still in "Narconon," a drug rehabilitation program. Whether the question referred to Narcotics Anonymous or a different program with a similar name is unclear, but Mueller replied that he was still in it and expected to stay in for "at least four years."
Whether he followed through is unknown, but in October 2014, Mueller, then 25, took the first steps toward his dream of becoming a firefighter, following his mother's path.
He obtained his emergency medical technician certification from the state, a designation good for four years. The application asked whether he had used illegal drugs in the past two years. It also required a criminal background check, which Mueller passed.
He then applied to be a volunteer at the Browns Point-Dash Point Fire Department, also known as Pierce County Fire District 13.
A VOLUNTEER
The department, staffed by 40 volunteers and headed by Chief Cliff McCollum, offers a 15-week, 300-hour academy that often serves as a stepping stone for would-be firefighters seeking paid positions with other departments.
"These are volunteers that are willing to come here and work, gain an education and hopefully get a career job," McCollum said.
An old hand, McCollum knew Faith Mueller and Duggan, a department veteran appointed as fire chief in 2012. Graduates of the Browns Point academy had risen to positions in the Tacoma department and others in the region.
McCollum also knew Ramsey Mueller, who had taken McCollum's emergency medical technician course at Tacoma Community College and shown potential.
"He was an excellent student," McCollum recalled. "Wasn't late; assignments were in. He was great in class."
The Browns Point academy ran two nights a week and every weekend. For three months, Mueller met the standard, attending classes, training and learning.
"He was doing outstanding," McCollum said. "Not just good — he was stellar. I was proud of him."
But on Jan. 16, 2015, something happened.
At 4:43 a.m. that Saturday, four police officers in University Place responded to a reported burglary in progress. The call led them to an apartment. Mueller was inside with a 34-year-old woman.
According to a police report of the incident, he was shirtless and shoeless, crouching on the floor and hyperventilating. His face was bleeding. The woman told the officers it wasn't a burglary; he was a friend who had stopped by to talk. He came in through the window, she said, but now he was freaking out. The woman's roommate, hearing sounds of an argument, said he had entered the room, punched Ramsey in the back and held him in a choke hold until police arrived.
The police report states that four officers wrestled with Mueller, trying and failing to subdue him. Medics arrived and tried to sedate him, without success. He kept struggling as his ankles were cuffed. He was loaded into an ambulance and had to be restrained. One officer asked the medics which drug could cause this reaction. PCP, cocaine or meth, they replied.
Mueller was taken to St. Clare Hospital in Lakewood for treatment related to drug exposure, the police report states.
He wasn't arrested or charged with a crime. The call was handled as a medical emergency — but it had another effect: Mueller missed his Saturday class at the Browns Point Fire Academy.
Chief McCollum found out.
"He was scheduled to be at class," he said in a recent interview. "I was informed that he had been hospitalized."
McCollum said he first heard from Faith Mueller that her son had been hospitalized. He soon learned the matter was drug-related, but he can't recall whether Faith or Ramsey told him.
The outcome was straightforward: Mueller couldn't return to the academy without what McCollum called a "medical clearance," meaning a screening that would show he was drug-free.
McCollum said he explained that requirement to Mueller directly and stayed in contact with him in subsequent weeks. Mueller never provided the clearance and never came back.
Halfway through his academy training at Browns Point, two weeks after his 26th birthday, Mueller had fallen short.
McCollum said he relayed the information about Mueller's hospitalization to Duggan. The Tacoma fire chief confirmed the conversation in a recent interview, noting he wasn't told any details — only that Mueller was "hospitalized." He said he also heard from Faith Mueller that her son had been assaulted in the incident.
The information-sharing was a matter of professional courtesy, mentioned in the course of a regular meeting, according to Duggan and McCollum. At the time, Ramsey Mueller had no connection to the Tacoma Fire Department, but his mother did. In the aftermath, she took some time off.
"I was aware that there was a hospitalization, and Faith left because her son was in the hospital," Duggan said. "I later heard from the Browns Point fire chief … he relayed to me that he might have to take some action, and he wanted to make sure that there weren't any issues with it because of Faith being the (Tacoma) deputy chief.
"I think (McCollum's) concern was that if he had to, for whatever reason, have some action that he needed to take with Ramsey, he wanted to make sure that it didn't have an effect on our relationship. Sometimes that's a polite way of saying, 'I'm giving you a heads-up.' "
ARREST IN CALIFORNIA
In April 2015, three months after the University Place incident, Mueller posted on Facebook that he'd moved to Palm Springs, California.
On May 9, a Riverside County sheriff's deputy spotted him at 1:57 a.m. in a white pickup, parked at a Walmart in Palm Desert.
Mueller's arms were wrapped around his legs, his feet pressed against the interior roof of the truck. He was strung out, grinding his teeth.
He said he was living in the truck and stopped to rest. He said he'd used meth and heroin earlier that day. He had a pair of syringes in his pocket and a black Bic lighter. He said he hadn't eaten in four days. That was typical, he said; he wasn't hungry when he used meth.
"Mueller said he has been using narcotics since approximately 14 years of age and his body was used to it. Mueller again told me he used heroin and methamphetamine within the last 24 hours. … Mueller generally smokes methamphetamine when he uses it, however, this last time he snorted it. Mueller said he used a hypodermic syringe to shoot the heroin into the veins in his neck."
— Excerpt of sheriff's report
The deputy took Mueller to jail. He was charged with a misdemeanor: being under the influence of a controlled substance. He was diverted into drug court, with a chance for a deferred prosecution and a dismissal if he complied with conditions.
In theory, Mueller's state EMT certification was threatened. He had signed forms acknowledging his obligation to report any "current or future criminal charges or convictions." Records don't indicate that he did, but the California charge was a misdemeanor, not a felony (i.e., a criminal charge).
In June, he posted on Facebook that he'd moved to Virginia and added a photo of himself standing near the Washington Monument.
In August, he missed a drug court date in California, which triggered an active warrant for his arrest. In September, he announced on Facebook he had moved back to Tacoma.
Around the same time, Mueller applied to become a firefighter in the Tacoma Fire Department.
THE SYSTEM
In fall 2015, the department announced openings for 16 firefighter positions. More than 1,100 people applied and took the entry-level test at the Tacoma Dome Exhibition Hall. One of them was Mueller.
By design, department commanders don't know at the onset who applies. The city of Tacoma's human resources department handles applications. A third-party company administers written tests, using individually sealed books, unopened until the test is taken, collected after it's finished.
Applicants are ranked by test scores ranging from 70 percent (the minimum passing grade) to 100. Mueller scored 97.5 percent. That was good enough to make the qualifying list of 40 applicants, where his name and family connections would have become clear.
Did his connections help at the testing stage? Duggan and Deputy Chief Green, who oversees the department hiring process, say no. Mueller was treated like everyone else, and his movement through the process was handled "by the book," they said.
Still, family history didn't hurt.
"The fire service is full of people who are family members," Green said. "The reason for that is they are exposed to fire service their entire life. They perform better."
Green added that "plenty of family members" apply and aren't hired, or get hired and fired.
The next step in the department hiring process was a personal history questionnaire. The News Tribune obtained a blank copy through a public disclosure request. The version Mueller signed is exempt from disclosure under state law.
Most questions were routine: date of birth, address, schools attended, previous jobs. Others were tougher. Had Mueller ever been dismissed or asked to resign from a fire agency?
He'd fallen short at the Browns Point Fire Academy earlier in the year and never supplied the medical clearance required to complete it. As a volunteer, he hadn't been hired, so he hadn't been dismissed.
Had he been convicted in the past 10 years of murder, rape, burglary, vehicular homicide, arson, assault, theft or a crime against a child or other vulnerable person? No.
The questionnaire didn't ask whether Mueller had drug-related convictions, but that was irrelevant. Technically, the answer still would have been no.
His January 2015 encounter with University Place police didn't result in an arrest or a charge. The May 2015 arrest in California did, but the resulting charge was a misdemeanor, and the case was still active. Mueller had an active arrest warrant, but hadn't been convicted. His state EMT certification remained valid.
Two questions asked about drugs, legal and illegal. Both were framed in the present tense:
Do you sell, possess or are you using illegal drugs?
Are you currently using legal pharmaceutical drugs in an illegal manner?
Duggan and Green said Mueller didn't disclose any drug issues in his answers to the questionnaire.
The next step was a personal interview with three department leaders and a pair of civilians.
The interview is focused on character and broad impressions, not specific skills, according to Green.
"We can teach you to be a firefighter," he said. "We can't teach you character."
Rules established by the city's Office of Equity and Human Rights, aimed at building a more diverse workforce, set boundaries for questioning. Mueller's past history of drug abuse wasn't a factor in the interview, in part because interview panelists, even if they were inclined, couldn't ask him about it.
The rule appears in a city handbook for recruiting, hiring and retention, in the midst of a section under disability. The handbook explicitly forbids asking job applicants whether they have used illegal drugs in the past, or if they've been treated for drug addiction or drug abuse.
Mueller sailed through the interview, presenting well. He made the final cut to 16 candidates from 40, and ranked ninth on the list, Green said.
On Nov. 23, 2015, the Fire Department formally offered Mueller a job as a recruit firefighter. The offer was conditional: It hinged on successful completion of a physical, a drug screening and a background check.
FINAL HURDLES
The process didn't include a psychological evaluation, a tool used by some fire departments, including the cities of Seattle, Olympia and Everett. Tacoma used to require psychological evaluations for firefighter applicants (the Police Department requires them), but the practice has ended.
"We used to do them," Green said. "They were just not very reliable. Wasn't measuring what was important for us. It was very biased."
Mueller cleared the drug screening and passed the physical, which included a questionnaire. As with other aspects of his application, the records are exempt from disclosure, but the Fire Department provided a blank copy.
One question asked, "Have you any condition that might put you, your co-workers, or any other person(s) at risk as you perform your job?"
Mueller's answer in records is exempt from public disclosure — but had he said yes, he would have been required to provide details.
A second section of the medical questionnaire asked whether Mueller had ever used illegal drugs and whether he'd been hospitalized for any reason in the past five years.
The truthful answer to both questions would have been yes. The January 2015 incident in University Place led to Mueller's hospitalization for drug exposure, according to police records. The June 2015 incident in California led to an arrest and a charge of drug possession.
Mueller's answers on the medical questionnaire are confidential, but Fire Department commanders said he didn't mention any drug issues or hospitalizations during the application process.
The criminal background check, conducted by a third-party firm, was all that remained.
The hiring process at the fire department used to begin with a background check. The current process reserves it until the end. The sequence changed after the city's 2015 adoption of a "ban-the-box" policy that de-emphasizes background checks in hiring.
Specifically, the policy removes a question from city job applications: "Have you been convicted of a felony within the last 10 years?" It also limits the scope of interview questions about a job applicant's legal history.
The policy doesn't ignore background check results. Felony convictions and recent DUIs tend to be instant disqualifiers for job applicants, Duggan and Green said. Traffic tickets and misdemeanors at an early age, not so much.
The point is redemption: the idea that second chances matter more than first mistakes, that a perfect past isn't the only measure of employability. The old process often excluded people of color at the outset, according to Green.
"You end up with a very homogenous looking group of firefighters," he said.
Duggan added that flagging recruits on background checks alone would mean, "We're going to start looking very much like a homogenous, white fire department. And we will not reflect the diversity of the community that we serve and we are part of."
Mueller was white, but the ban-the-box policy applied to him as much as any other candidate. He might have hidden the truth in his medical questionnaire, but he didn't lie in his job interviews. He didn't have to.
His background check didn't cover arrests or police contacts; the January 2015 incident in University Place wouldn't have shown up. But the check did catch the misdemeanor drug charge from California, and the active arrest warrant Mueller had triggered in August for missing a drug court date.
The News Tribune requested records of Mueller's background check. The Fire Department, citing legal advice, declined to disclose it, but provided a generic version.
Green, who examined the background check personally, said, "There's no detail" in the report: It didn't include the California deputy's narrative account of Mueller's arrest or his confession of a drug problem dating back more than a decade.
"There was a bench warrant related to use or under the influence of a controlled substance," Green said.
A charge related to drug use should have been mentioned on Mueller's medical questionnaire, if he answered truthfully. If he didn't disclose the information, that would have been untruthful.
However, medical questionnaire results are treated as private information and not shared with the Fire Department. Commanders see only the result, indicating whether job candidates pass, and the results showed Mueller passed.
Green said he saw the arrest warrant information from the criminal background check, called Mueller and told him the warrant would have to be cleared up or he couldn't start the academy. Green said he didn't ask what the warrant was about.
On Dec. 11, the warrant was cleared, according to court records from California.
Three days later, Ramsey Mueller, a meth and heroin user with a confessed 10-year habit, started his first day of training as a Tacoma firefighter, a first responder and a saver of lives.
NO INTERNAL DISCUSSION
One more Fire Department policy plays a theoretical role in hiring. It applies to commanders as well as rank and file employees. It requires Fire Department personnel to notify supervisors of any matter "that might affect the best interests and welfare of the department."
Faith Mueller knew her son's history of drug abuse and the potential risks associated with his hiring. Duggan, the chief who made the final hiring decision, was and is her direct supervisor.
She didn't discuss her son's history with him, according to Duggan, who didn't know the scope of Mueller's drug-related contacts with law enforcement until he heard it from The News Tribune, months after Mueller died.
Duggan added that he and his commanders "don't socialize" outside of the office, so it wasn't a given that he would have been aware of such information.
Was Faith Mueller duty-bound to disclose her knowledge to her boss, independent of the formal hiring process?
"I think there's an expectation," Duggan said. "I'm staying away from the word duty. But I will say there's an expectation. And it's in the policy. There's an expectation that people will bring things forward. (Faith) did not meet that expectation.
"Faith was his mother. That is an unbelievable bond. I'm guessing because of some of those bonds, there was some not accepting of what all of us who look at it from a different perspective would see."
By all accounts, Ramsey Mueller thrived as a recruit firefighter. He was subject to daily evaluations from supervisors.
The News Tribune requested records of his performance evaluations, including comments from commanders. The Fire Department, citing legal advice, redacted the narrative portions. The limited records show Mueller moved through the 13-week training phase and graduated in March, along with other recruits.
McCollum, the Browns Point fire chief, attended the graduation ceremony and saw cause for optimism concerning Mueller.
"I really cared about that kid," he said. "I went to his graduation, and I had nothing but high hopes. I thought, 'He's found himself, he's gonna be OK.' "
For a time, it was true. Mueller, still a probationary firefighter, worked regular shifts and responded to incidents, learning along the way. Duggan and Green said he did a good job, even under the tough scrutiny of commanders who knew Mueller's family connections.
"Ramsey performed exceptionally well," Green said. "Our folks are really critical of family members. They really, really nitpick them. When they're doing well, that says a lot, because our folks kind of rip them apart."
'LIVING THE DREAM'
After graduation, Mueller was a full-fledged firefighter, though he still had "probationary" next to his title. What happened next is revealed in Fire Department records and Tacoma police reports.
July 16, 2016, was a Saturday. Mueller was scheduled for a regular shift at Fire Station 7, at 5448 S. Warner St. He was 15 minutes late — unusual in itself, since his co-workers had noticed his punctuality.
He seemed off, not himself. He swayed as he stood, slurring his words. He asked questions about features of Engine 7, things he had already learned earlier in the week.
A fellow firefighter asked whether he was sick. Mueller said he wasn't feeling well.
Had he taken any medication? Mueller said he hadn't.
Engine 7 was dispatched to a structure fire, with Mueller aboard. The firefighters soon were freed up to leave, and one suggested Mueller could take the wheel and drive to a training site for a scheduled exercise.
As Mueller drove up to an intersection on Portland Avenue East, the truck crossed from the left lane into the right, driving over the "turtles" — raised pavement markers — nearly hitting a vehicle in the right lane.
A commander warned him to stay in his lane. Mueller had trouble. He forgot to use the turn signal at least once. A co-worker took the wheel, asking whether Mueller had self-medicated that morning. Mueller didn't answer.
Back at the training center, Mueller said he felt better, but moved slowly and seemed lethargic. The firefighters started their drill, which required Mueller to find a pen. He couldn't, though it was in the front of the compartment where he was looking.
The commander, noting the odd behavior, told another firefighter to speak with Mueller and size him up.
"Hey man, how's it going?" the firefighter asked.
"It's pretty good, man," Mueller replied.
"How's life?"
"Great man — I'm living the dream," Mueller said.
Privately, the commander alerted battalion chief Ray Manglona that Mueller appeared drunk. Manglona said he was on his way to the training center.
When he arrived, he spoke to other commanders about Mueller's behavior. Again, Mueller was asked whether he had taken any medication. This time, he said yes, but couldn't remember what it was or how much.
Manglona pulled Mueller aside and asked him where Station 7 was.
Mueller said 5448 Lawrence, before correcting to 5448 Warner.
Next question: What day is it?
"Monday," Mueller responded. It was a Saturday.
Was Mickey Mouse a dog or a cat?
A cat, Mueller said.
The drill was canceled. Mueller was upset. He didn't want to go home. A fellow firefighter told him it wasn't a big deal: Their lives were in each other's hands, and that was what mattered.
At Manglona's order, Tacoma Fire medics took Mueller to an area hospital for a drug screening. Engine 7 had to be taken off duty until a replacement firefighter was found.
At the hospital, Mueller asked Manglona about his job status. He fell asleep in the waiting room, then tried to leave the hospital before being discharged.
Meanwhile, co-workers found Mueller's coffee cup. They thought it smelled of alcohol, but tests of the coffee proved negative. Whatever ailed Mueller, it wasn't liquor.
To this day, Fire Department leaders don't know what substance Mueller took. They sought a drug test, but because of a procedural slip-up, it was treated as a personal screening, rather than an employer-ordered test, and thus subject to personal privacy restrictions. Department leaders never saw the results.
RESIGNATION
On July 17, a day later, Faith Mueller checked her son into a rehabilitation clinic in Kirkland.
"I just got back from driving Ramsey to (redacted) recovery center," she wrote in an email to Duggan. "I'm a mess, as you can imagine. I don't want to run from it but I'm not sure I can make it in to work tomorrow."
"Faith, I understand," the chief replied. "I'll talk to you soon."
Ramsey Mueller resigned from Tacoma Fire on Monday morning, July 18, citing "personal reasons," according to department records. If he hadn't, he would have been fired for drug use on the job, Duggan said. The termination process had already begun.
On July 19, according to a Tacoma police report, Faith Mueller's partner, James Feltus, woke about 5:45 a.m. and saw the SUV they had lent Ramsey Mueller was missing from its parking spot where it had been the night before.
That made no sense; Ramsey was supposed to be in rehab in Kirkland and wouldn't have access to the SUV. Faith Mueller called the Kirkland facility, only to find Ramsey had checked himself out.
She and Feltus drove to Ramsey Mueller's home. They saw the SUV in the driveway. The front door was locked. Knocks drew no answer.
They entered through the back door and found Mueller in a bed, face-down, wearing his Tacoma fire uniform.
They called 911, but it was too late. He was gone.
Police responded to the scene. According to the report, they found Faith Mueller lying next to her son, in tears and cradling his head with her right arm. Her second son was lost, eight years after his brother.
Feltus talked with officers afterward and told them Ramsey Mueller had addiction problems before becoming a Tacoma fire candidate, records state.
Police officers searched the SUV. They found a scale and a rolled-up dollar bill. The Pierce County medical examiner later issued a cause of death: accidental heroin overdose.
News of Mueller's death was crushing for the department and those who knew the young firefighter.
"It just knocked my landing gear out from under me when it happened," said McCollum, the Browns Point fire chief. "I was just devastated."
Looking back, Duggan said he wouldn't have hired Mueller had he known the full scope of his history — but he didn't. The hiring process, intended to give people second chances, allowed him to overlook red flags, including a tip from a neighboring fire chief as well as the background check.
Family connections had nothing to do with his hiring decision, Duggan added. Given the knowledge he had at at the time, his said his decision to hire would have been the same — but Mueller's death has forced a re-examination of the department's hiring process, which is ongoing.
"Everything we saw of Ramsey from day one through that Saturday, he was doing a good job," Duggan said. "There's something in our system that is missing, clearly."
The News Tribune sought Tacoma City Manager T.C. Broadnax's views about the hiring process and possible systemic weaknesses. Broadnax, who will soon depart to manage the city of Dallas, did not respond.
Part of the problem, according to Duggan, is shame. Had Mueller sought help for his addiction after he'd been hired, he would have received it and perhaps not lost his job.
"We've got to get past seeing drug use in our community as a moral failing," he said. "It's a chronic public health care problem. All he had to do was come forward and say, 'I have a problem' after we hired him, and for some reason he was reluctant to do that. He would have been a very good firefighter."
Aftermath
At a memorial service in August, Faith Mueller spoke to a crowd of family, friends, Tacoma firefighters and commanders and remembered her son: his passion for surfing and the outdoors, and his efforts to better himself.
"Ramsey struggled after his brother died," she said. "He faced many challenges, but he faced each hurdle head-on with perseverance, tenacity, determination and courage, because that is who he was."
Looking over the crowd, she addressed recruiting class 15-2 — her son's classmates and friends. She told them being a Tacoma firefighter was Ramsey's lifelong dream.
"You've lost one of your wingmen," she said. "But he will forever be watching over all of you. His heart was full of love and respect for each of you.
"The greatest gift you can offer is your continued success and proud commitment as a Tacoma firefighter. There is no greater honor than that."
Copyright 2017 The News Tribune