Why I proposed my title be 'EMS & fire chief'
Inside our department's process to restructure and rebrand to better reflect our service to the community
---
By Robert Weisbaum
Hello. Allow me to introduce myself. My name is Robert Weisbaum, FP-C, MPO, and I am the EMS & fire chief/chief operating officer for the Crested Butte (Colorado) Fire Protection District (CBFPD).
Some of you may have just done a double take on my title – EMS & fire chief. "Why not just fire chief?" and "Why is EMS first?" you're probably wondering.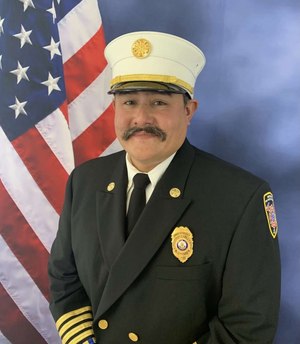 Perhaps we should tackle a different question first: What's in a title?
A department in transition
The Crested Butte Fire Protection District, located in western Colorado, recently transitioned from a volunteer organization to a combination department consisting of 20 full-time staff and 45 part-time and volunteer members. Previously, the structure consisted of line personnel from two divisions – an EMS division and Fire division.
On the EMS side, there were line personnel, a shift supervisor (lead ALS provider) and the EMS coordinator. On the Fire side, there was a more traditional structure with line personnel, lieutenants, captains, an assistant chief and the fire chief.
As the organization evolved and leadership roles changed, there was an opportunity to begin an important transformation. Titles provide identity to roles and command structure, and allow the agency and other organizations to know and understand individual roles. With the mission in mind and a clear vision of a desired future state, the organization began restructuring and rebranding.
Promotions and adjustments
Initially, when the previous EMS coordinator left the agency, I was promoted from lieutenant to EMS coordinator. I found that this was a great opportunity to approach the Board of Directors with a proposition.
The role of EMS coordinator has traditionally been viewed as a mid-level management position with unclear authority within a fire department hierarchy. In our case, this position was an upper-management/leadership role. So, I approached the Board with the request to change the title to EMS chief. This title better reflects how the position fits within the overall hierarchy as well as the increased responsibility associated with the role.
After one year as the EMS chief, I was offered the opportunity to become the fire chief. Interestingly, the title chosen at that time was changed to the operations chief, and our district was technically without the traditional fire chief title for a period. The Board of Directors wanted to see additional professional development from myself prior to naming me the fire chief. This was a task I was happy to tackle. After all, I would be challenged with new administrative duties and realizing the difficulties of managing a fire district.
Our district manager – a title that is not as common in the fire service these days – held the highest rank in our organizational structure. He did not have a background in EMS or fire, and did not hold any certifications in these respective fields. His background was one of business, and he managed the duties similar to that of a chief financial officer.
As I settled into my role as operations chief, I performed a SWOT analysis of our combination department. I recognized that we were falling short on many levels – response times, adequate staffing models, and engagement. So, I requested numerous meetings with our entire team.
As we shared ideas about the direction of our department, we discussed ways to successfully combine our EMS division and Fire division so that we were one cohesive group. This provided additional exposure to the volunteers who yearned for more involvement with the department.
This big change in structure is no easy task, and there were difficulties along the way.
Two big changes to better define leadership roles
Not too much later, the district manager was due for retirement, and we began the search for a replacement. A decision to continue with the district Manager title was discussed and who would be hired to fulfill this role. Fortunately, the Board maintained trust in my abilities to lead the department as operations chief.
Sean Caffrey was soon named as our new district manager. Caffrey has a long history in EMS and some volunteer firefighting experience. He had also completed an MBA and held the CEMSO and FACPE credentials.
Following Caffrey's hiring, we continued to have discussions about title changes and really identifying our roles as the leadership of the department. Caffrey was involved in multiple state and national organizations, while I was involved more locally in our region. Most significantly, I was a long-time participant and chairman of our regional EMS and trauma council, the WRETAC. Furthermore, our district had the honors of being recognized as Ambulance Service of the Year in 2016 and 2019. We strive for excellence in EMS and fire by engaging in opportunities to improve through recognition of our strengths and weaknesses.
As Caffrey settled in, I continued my professional development and showed results to the Board of Directors that our mission was being fulfilled.
After completing some research, we were prepared to present our case for two new proposed titles: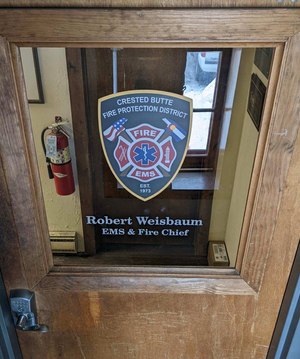 Sean Caffrey: CEO/commissioner
Robert Weisbaum: EMS & Fire Chief/COO
The Board approved the changes, and our new titles were in effect. So, this begins an effort to recognize what we truly do as fire districts that predominantly provides EMS services.
This dual title role for each position best identifies the duties we perform. Additionally, the dual titles help to clearly identify our roles both inside and outside of the public safety arena. In the hierarchy of our department, Caffrey reports to an elected Board of Directors. I report to Caffrey.
Some of you reading this will picture your organizational chart, often with the fire chief at the top. While this may be uncommon for many, this structure works well for us.
Giving EMS the credit it deserves
At this point, some of you might be stuck on my title – EMS & fire chief. It's no surprise that many departments across the country are seeing a dramatic shift in calls. Improved fire codes and increased community risk reduction programs lead to safer communities. Further, medical calls have been on the rise, now accounting for 70-80% of many departments' calls. So, why not recognize this change and give EMS the credit it deserves?
There is ongoing discussion and realization for increased educational requirements and rightfully so in my opinion; EMS must be recognized as a profession, not just a trade or industry. However, this will be difficult achieve without forward progress. Small wins can lead to great successes. So, let's address the smalls step we have done to align with our mission and goals with a little additional background to our service.
The CBFPD has seen an increase in call volume of 70% over the last 10 years, and we are averaging an increase of approximately 7% each year. During my time here, EMS calls have been the majority of our call volume while fire-related calls account for 30%. Of that 30%, 95% of those fire-related calls are service calls and "smells and bells." Our full-time staff are cross-trained in both disciplines, and EMS responds on 100% of our call volume, as they can be utilized in a fire role when needed.
Having a critical care background, I found an opportunity within our department to establish and perform a high level of care with the support of our medical director and team. Although we have a fairly low call volume, we do have high-acuity calls. This presented the opportunity for us to establish critical care protocols, which is unique to a fire department.
It's important to recognize this by making changes in phrasing and verbiage. Our ambulances read Crested Butte Paramedics, which is all encompassing of EMS professionals of all levels, much like the European approach. It is important to note that the United States does not follow this model and currently recognizes EMR, EMT, AEMT and paramedic. We have eliminated "Ambulance" from our rigs as well as advanced life support. With the support of a progressive medical director and a team that is enthusiastic about education, learning and advancement, we were able to create a successful critical care program for those low-frequency/high-risk calls.
Subtle shifts matter
So, we ask ourselves again: What's in a title? More than one might think. But that title comes with expectations that those who hold it are qualified, educated and dedicated to the mission and values of the organizations.
Let us take small steps to understand and realize that EMS is a critical component of the fire service. We as leaders have an opportunity to create a shift in the way we think and portray our services to the communities, where appropriate; I acknowledge that such changes may not be pertinent to all agencies.
At the end of the day, we are all in this for the same reason and that is to serve the public. Whether you agree or disagree, we are all one, and we are in this together.
About the Author
Chief Robert Weisbaum began his career in EMS in 2000 and in the fire service in 2004. He has worked in private systems, for fire departments, and in air medical as a Critical Care flight paramedic. He joined the Crested Butte Fire Protection District in 2013, currently serving as the EMS & Fire Chief of the department.